Smith starts 2017 MotoGP season with intensive test on the KTM RC16 at Sepang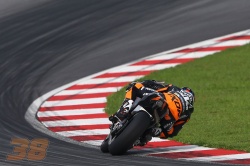 Posted on Feb 02, 2017 by Red Bull KTM Factory Racing
The Red Bull KTM MotoGP Factory Racing Team on Wednesday wrapped up official IRTA tests on the Malaysian circuit of Sepang with factory riders Bradley Smith and Pol Espargaro after having more important development steps with the KTM RC16 MotoGP bike.
Immediately before the IRTA tests with KTM's factory riders Bradley Smith (GBR) and Pol Espargaro (ESP) the test team with test rider Mika Kallio (FIN) were already busy with private testing of the KTM RC16 at the same circuit.
All three riders lost some track time due to heavy seasonal rain at the Malaysian circuit, but both teams and riders left satisfied that they had achieved their goals. Apart from a small low side crash by Espargaro in turn two on the last day, which did not result in any damage to the bike or rider, the test went smoothly and without incident.

Mike Leitner (Team Manager MotoGP):
"Everyone was here and everyone was pushing. The other manufacturers have a lot of experience on this track and it's one of the most difficult on the calendar. It was super important to bring all the ideas we have had since Valencia. This didn't help so much regarding the times but for sure we had very good input. The riders did a super job, also Mika in the days before. We should be really happy because we know where we are and we'll keep pushing."

Rain held off until the late afternoon on the opening day but Espargaro took the opportunity to put in some laps on wet tires. Both riders improved lap times as the day progressed with Espargaro +1.658 seconds off the lead in 16th place in his 45th lap.
Tests started late on Tuesday after heavy overnight rain saturated the track, but conditions improved on the final day with Smith exactley as fast as his teammate, both 1.970 seconds off the pace right at the end of the third session.

Bradley Smith (Factory Rider MotoGP):
"I think during these three days we did what we had to do. When I felt comfortable we went faster and we didn't rush anything. We worked through our program step-by-step and we tried not to make any mistakes. That's important at this point in time because development is crucial. Let's say we tried 12 new things and 11 were positive and that's nice for it to happen here in Sepang. I think we certainly have a clear indication. The team has worked fantastically. Everybody has made really good progress during these three days, on tires, suspension, electronics and chassis. I think everyone can be proud. For us to be just 1.9 seconds from the front at Sepang, one of the longest racetracks on the calendar, and for our first test for 2017, I think it's a great place to start."

Sebastian Risse (Technical Director MotoGP):
"Our first target for these six days was to check the material and our package, because we have everything new for this year. Our second target was to find some direction for the problems that the riders told us about at the end of last year. We developed different ideas during the winter and we proved that they were right. First, there were the tests with Mika and he was quite happy, then we tested more things with the GP riders and they are also quite happy about our direction, especially regarding the chassis, and also the electronics. Lastly we had to get the riders back on track after the winter break because the real season starts now, so we need laps. We all have to learn, and the team needs to work together. Now we'll see what happens in the next steps."

The next round of pre-season tests are at Phillip Island Australia starting February 15, just short of a month before the first GP in Qatar on March 26.
Combined Results MotoGP IRTA Test Sepang 2017
1. Maverick Vinales (ESP), Yamaha, 1:59.368 min (177 laps)
2. Andrea Iannone (ITA), Suzuki, +0.084 sec (133)
3. Marc Marquez (ESP), Honda, +0.138 (174)
4. Andrea Dovizioso (ITA), Ducati, +0.185 (137)
5. Dani Pedrosa (ESP), Honda, +0.210 (156)
21. Pol Espargaro (ESP), KTM, +1.970 (162)
22. Bradley Smith (GBR), KTM, +1.970 (143)