Smith superbly battles to 8th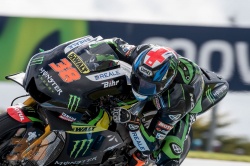 Posted on Oct 23, 2016 by Monster Yamaha Tech 3
Bradley Smith produced a courageous ride to complete his 100th Grand Prix with the Tech3 team in 8th, despite not racing at full fitness due to a complicated knee injury. The young British rider kicked off the Australian GP from 14th on the grid and got straight to work when the sprint began. After carefully navigating his way through the first lap, he crossed the line in 18th but he then confidently stuck into a solid rhythm as he looked to progress. His pace allowed him to glide past four riders and move into 14th after one third of the distance. Smith continued to push and his hard work and faultless riding lap after lap paid off and he joined a pack of seven riders all fighting for 7th as the GP entered the final stage. After a frantic dash to the chequered flag, Smith defied all expectations by finishing in 8th, having impressively jumped up two positions on the last lap. The positive conclusion in Australia leaves the British rider fired up for the forthcoming Malaysian round as he continues his recovery process.
Bradley Smith: – Position: 8th – Championship: 17th – Points: 53
"First of all, I have to say that the result is very positive. It was definitely a lot of hard work and in the last few laps, I was fortunate enough to find some opening gaps which allowed me to finish in 8th. Initially, I was a bit disappointed with myself because I wasn't aggressive enough at the start. This may have been because of my injury and perhaps I was over thinking a bit about what to do, plus I was very careful with warming up the tyres. However, once I found my rhythm, I was able to catch the group, even if it was a challenge to do this, and when I got onto the back of them, I just tried to be smart and save the tyres, because I knew that the rubber was going to be vital for the last three laps. I made a few passes in the closing stages of the race and then finally in the last corner, I just went full attack mode on the outside and I got some good grip which allowed me to beat Petrucci and Miller to the line. Once again, I have to say big thanks to the Tech3 team because they did a super job, especially after yesterday's crash. Also, with the limited track time that we had in the dry, the guys were fantastic and gave me a solid setting. For the moment everything is going according to plan. We came back in Japan, then here, we went a little better, so now let's see what Sepang brings."
Hervé Poncharal - Team Manager:
"We knew it was going to be a tough race in the MotoGP class and for sure, it was. Bradley undertook a superb performance and we must remember that ten days ago, we didn't even know if he was going to be able to take part. At the beginning, he took his time and tried to understand his package, as well as his physical condition. After that, Bradley was on a mission and he caught the group in front who were more than five seconds ahead of him. This was exciting to see as he took half a second each lap until he was there. Finally, Brad commenced the last lap in 10th, and he was incredible in the fourth sector before completing the race in 8th, which is far better than what we could have expected. Congratulations to him for his hard work, his dedication and his never give up attitude. To finish such a tricky weekend in 5th and 8th is fantastic when considering the poor weather and the track conditions that we had to face. Now we will move on to Sepang, the last of the three flyaway races, where we hope to repeat this result before we head back to Europe."