Smith takes valuable points amidst misfortune at Misano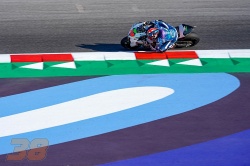 Posted on Sep 14, 2019 by One Energy Racing
Bradley Smith finished the first race of the weekend at the Misano World Circuit Marco Simoncelli in twelfth place. The ONE Energy Racing rider had to recover from a crash on Lap 3, but was able to remount and claim 4 valuable points for his title push.
The Briton, who started from seventh place, held his position on the opening laps, but an incident involving two other riders ended up with Smith falling at Turn 8. Fortunately, he was able to resume the race and crossed the finish line in 12th.
After this first race at the San Marino GP, Smith is fourth in the overall standings with 40 points, just 7 off the series leader. Tomorrow he will have a second opportunity to claim points at the Misano World Circuit Marco Simoncelli, in Race 2 at 10:05am local time.

Bradley Smith:
It was an unlucky day. The opening laps weren't the best. I didn't feel completely comfortable with the bike. The accident was unfortunate. We all went strong into Turn 8 and an incident between two other riders sent me down. Luckily for me, I was able to finish and get some points. It's the best of a bad situation, but we have to take away the good things. Tomorrow we have another opportunity. This is obviously not the way I wanted to finish the race. It was not my fault, but these things can happen, especially when you start from far back. Now I'm 7 points behind the series leader, and we're focusing on the second race."