Smith targets podium challenge in Germany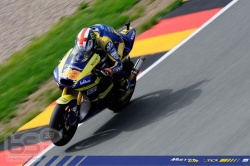 Posted on Jul 16, 2011 by Tech3 Racing
Bradley Smith's challenge for a fourth consecutive podium in the ultra competitive Moto2 World Championship will start from the third row of the grid at the tight and twisty Sachsenring track tomorrow.
The British rider qualified his Tech3 Racing Mistral 610 machine in ninth position at the end of a session run in gloriously sunny conditions that saw air temperatures peak at 25 degrees.
Smith, who goes into tomorrow's 29-lap race sitting in third place in the World Championship standings, was in contention for the front row throughout a closely fought session after he'd ended free practice in sixth place overall.
He had clocked a best time of 1.25.304 on his 18th lap and was confident of improving his pace when a small mistake on his final flying lap saw him run off track at the high-speed Turn 8. Despite his best efforts to keep control of his bike, Smith was unable to slow down quickly enough in the gravel trap and he crashed after making contact with the trackside air fence.
The 20-year-old walked away unhurt and despite not completing his final lap, he was only just over 0.2s away from fourth and he's confident he will be a serious challenger for the top three in round nine of the 2011 Moto2 World Championship.
Bradley Smith 9th – 1.25.304 – 23 laps:
"The third row is not a bad place to start, but ideally I would have liked to be on the second row at least just because of the nature of this track. It is very tight and twisty and overtaking is very difficult, so getting a good start will be crucial. But I am quite happy still with the performance. We were struggling in a few places, especially on the final run and I was riding too hard rather than trying to ride as smooth as possible. The lap time dropped by over half-a-second compared to this morning, so I tried to push a little bit more. Obviously I am disappointed to bring the bike back on a trailer, but there won't be too much damage because the bike just fell against the air fence. The weather looks like it is going to be hotter again tomorrow, so we've got a good set up for the second half of the race when the tyres are worn. We still need to improve in some areas, but generally I am quite happy with everything. I'm just excited now to try some more changes in the Warm-up and try to get the bike more ready for the race."