Smith to start 9th on the grid for Misano sprint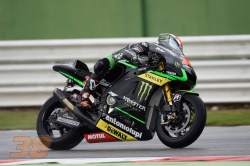 Posted on Sep 13, 2014 by Monster Yamaha Tech 3
Bradley Smith will begin tomorrow's 28 lap sprint around the Misano World Circuit Marco Simoncelli from 9th place on the grid. The British rider began the day by completing the morning practice in 8th and setting the fastest T3 sector time.
Later in FP4, Smith closed the session with a best time of 1'34.953 which saw him fully prepared for the 15 minute shootout Q2 session at the 4226 meter circuit. The 23 year old rider sought to make an impact straight away, however, his attempts were prevented by a lack of traction from his rear tyre. Despite this, the British star battled onwards to produce a best time of 1'33.761, less than half a second from the final front row position of Valentino Rossi as well as being the fastest Yamaha through the speed trap with 285.5 kmh.
From this grid placement at the rear of the third row, he will intend to undertake a rocket start and then ascend up the field to seize a top point scoring position.
Bradley Smith: – Position: 9th – Time: 1'33.761 – Laps: 9
"Finishing 9th for sure means things did not go according to plan and once again the start will be crucial for our performance tomorrow. I hoped to be a bit further up the grid but my feeling with the second tyre was not the same. I always use the first tyre in Q2 to get up to speed and then do my quick lap on the second but this time after we changed the tyres, the bike didn't handle comfortably and I had high sides on each corner entry. With the nature of this circuit I wanted to be in the top six so that I could be in the best position for tomorrow. However, despite this it goes without saying that I am ready to get stuck and give it my all. As for the race pace, I'm still a little unsure but I rode FP4 on old tyres where I managed to do 1'34 lap times and of course when we start with fresh rubber it's always easier. There's a few things to try in warm up, but I am very pleased with how the bike handles during braking which is very important at Misano and I will need to be doing a lot of overtaking tomorrow to get to where I want to be."