Smith to start home race challenge from second row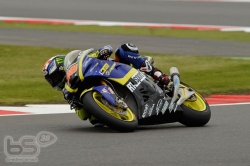 Posted on Jun 16, 2012 by Tech3 Racing
Bradley Smith will start his challenge for a second successive British Moto2 podium from the second row of the grid after producing his best qualifying performance of the season in blustery conditions at Silverstone this afternoon.
The Tech 3 Racing Team started the session confident he could challenge for a front row place on the grid for only the second time in his Moto2 career after finishing an impressive third on the combined practice timesheets.
He carried the momentum gained in practice into qualifying and Smith put his Mistral 610 machine in contention for the top three throughout in a session dominated by a fierce and unpredictable wind.
It looked like his best lap of 2.08.844 would secure him his best qualifying result since he was third on the grid in Mugello last season, but a late charge from Catalunya winner Andrea Iannone bumped him back to fourth.
Smith was only 0.228s behind compatriot Scott Redding and heading the second row of the grid is the 21-year-old's best startign position since he was fourth at the Twin Ring Motegi in Japan last October.
Smith produced one of the standout performances of 2011 at Silverstone when he put on an overtaking exhibition in atrocious conditions to fight his way from 28th on the grid to second. Having demonstrated his fast and consistent pace all weekend, Smi th is brimming with confidence that he can battle for the rostrum again in tomorrow's 18-lap race.
Bradley Smith 4th 2.08.844 – 18 laps:
"Today continued our excellent weekend and right from the start of practice yesterday we have done a fantastic job and been right in contention for the top three in every session. That has been a great boost for all of us at Tech 3 Racing after a difficult start to the season and I can't wait for the race now. We've found a really good setting with the bike that gave me a lot confidence and even in really tricky conditions today I was fast and competitive. The wind made it really tough to control the bike but that lap of 2.08.8 was just about perfect and I thought it was good enough to be on the front row. It is a shame that I just missed out, but having not started from inside the top 10 all season, I'm not complaining. We need to see what happens with the weather but the bike feels really good on worn tyres, so I believe if I am in the hunt for the final laps then we have a great chance of being on the podium. That would be amazing for the British fans and for the crew at Tech 3 Racing who have been working incredibly hard to put me in this position."