Bradley works on bike set-up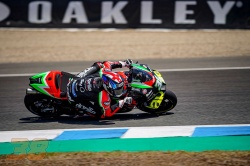 Posted on Jul 25, 2020 by Aprilia Racing Team Gresini
Teams and riders are preparing for what promises to be an extremely heated GP of Andalusia, and not just because of the 42°C forecast for tomorrow in Jerez de la Frontera. With a situation where many riders have a very similar race pace, it will be the details that decide the final result when the chequered flag is waved.
Bradley Smith struggled, a bit slower and still looking for the setup combination that will give him the right feeling astride the new Aprilia RS-GP. The goal for tomorrow, both in terms of sensations and in terms of the gap behind the leaders, is to improve on last weekend's result here on the same track, compared with last weekend's.

Bradley Smith:
"We tried a lot of setups to improve the areas where we have the greatest limitations, but we still haven't found the right path. In these situations, you can choose not to change too much on the bike and not take a risk, or you can try different geometries and settings. To be honest, I prefer the second option. Unfortunately, when we improve one aspect, we make another worse, and that is complicating our weekend a bit. We have to set reasonable goals for ourselves and what we need to do tomorrow is try to improve compared to last week's race."