Smith's weekend came to an unfortunate end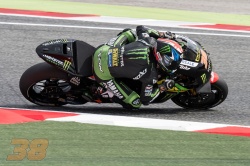 Posted on Jun 05, 2016 by Monster Yamaha Tech 3
Monster Yamaha Tech3 rider Bradley Smith's weekend came to an unfortunate end after withdrawing from the race six laps in due to a technical issue with the engine. The young Briton began the race from the fifth row of the grid and he undertook a solid start after taking the outside line into the first turn. However, shortly afterwards he dropped to the back of the field and then despite his best efforts he was forced to retire a few laps later. Today's result marks a disappointing end to a tough weekend for the 25 year old, yet, after tomorrow's test at the Catalunya circuit, he will seek to bounce back strongly at the Dutch Grand Prix in a fortnight's time.
Bradley Smith: – Position: DNF – Championship: 12th – Points: 29
"It goes without saying that this is quite an upsetting way to finish the Grand Prix. As soon as we began, I noticed that something wasn't right with the bike, even though I didn't know immediately what it was. We lost a lot of positions and I was struggling when slowing the bike down. Now, we will obviously investigate what happened in order to figure out what the issue was. However, it's frustrating to finish this way because I certainly felt that we could have had a really positive close to an otherwise tricky weekend. Thanks to the Tech3 team for their efforts in Catalunya, we'll work out the issue and then start again with testing tomorrow. Nevertheless, I am certain that we can get right back to where we need to be at the next round which is the Motul Dutch TT."
Hervé Poncharal - Team Manager:
"Everyone thought the change in track layout would be a handicap for Yamaha due to the first gear corners, but in the end it was amazing to see Valentino fighting with Marc. On our side, there was a big disappointment because after the struggle that we had in practice, Bradley found his pace and we were very confident that a top eight result was achievable. He had an ok start but we could see from lap two onwards that there was an issue. He pitted shortly after and unfortunately suffered a technical issue with the engine. This was a big pity because he could have finished strongly. On the other side, Pol did an amazing job. We knew that he had the speed even if he didn't get that one hot lap in qualifying, and we have been working a lot on our race pace. His start was great and he pushed hard at the beginning, then once the race settled half way through, he watched his pit board very closely and managed to keep the gap to the rider behind. Eventually, he brought the bike home in 5th, which is a great result for him and us at his home GP. We are competitive and this is the main thing, but there are eleven more races and we are sure there will be more success with Brad and Pol. It was very important and an amazing sign of respect to witness Valentino, Marc and Dani wearing Luis Salom shirts on the podium and also seeing all the riders with number 39 stickers. We want to dedicate this great weekend of racing to Luis Salom and his family. The whole paddock is thinking a lot about his mother who was very close to him, and the one minute of silence was very emotional for everybody and I'm sure no one will forget Luis."