Solid start – but room to improve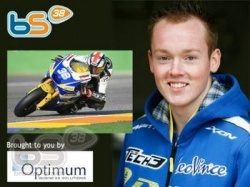 Posted on Mar 23, 2011 by George Penny
The Bradley Smith column is brought to you with the help of Optimum –
Value Through Procurement
Hi guys,
If you had told me a week ago that I was to finish ninth on my Moto2 debut, I would have taken it there and then...but now we are already working on a couple of things that I was disappointed with.
We have got to build upon the experience we gained from the ninth place, rather than just enjoy the result. To finish ninth in Qatar was a fantastic result for both myself and the Tech3 team around me. We all worked so hard through the winter, and I can tell you it was great feeling in the garage after the race.
We learnt so much as a team over the three nights of practice and then the race. Some routes we went down didn't work – which is why I was sliding along on my backside in the warm-up session – and others worked really well. It's just so important that we continue that development in Jerez throughout practice and qualifying.
I knew qualifying was going to be important this season and we were mighty chuffed with seventh place and a start from the third row. It was so important and was 50 per cent of the reason for the good result. I made a decent start and for the first five laps was able to learn so much when riding with the leading group. Furthermore, because of the good grid position and strong start I was able to settle into the race, which is a great thing given how tight the class is.
Stefan Bradl cleared off at the front but the lap times between the second, third, fourth and fifth groups were very much the same. My race time would have won me the race last year and shows just what big strides everybody has made.
Bradl was lapping one second a lap quicker than me, and that's one of my disappointments. I've got to cut down that deficit as soon as possible. The Moto2 class has definitely stepped up another level and I've got to do the same.
The big difference I found was when the bike was full of fuel. The tank holds 19 litres and it makes a big difference as to how it responds. I'm going to work even harder of my fitness to have the strength to muscle it round. I have already been out cycling since we got back, although like everybody else I was shattered when I got home on Monday and needed a couple of hours kip.
Four practice and qualifying sessions - plus the warm-up – in the first three days and then the race on Sunday all held at night under the floodlights pushed everybody to the limit!
I had a look at the 125GP race to check put some of my old mates. Nico Terol was in a class of his own and without Marc Marquez, Pol Espargaro and myself to push him along, that championship is his to lose.
We are all looking forward to Jerez, especially as we got two solid days of testing there a couple of weeks ago. That gives us plenty of data to work with a good base to start from. I have so many great memories of Jerez both in the Spanish championship and that first grand prix victory a couple of years ago, but this is a new chapter and we start on a level playing field. We will be keeping our feet firmly planted on the ground.
A lot of the family came out to support me in Qatar, which was brilliant. If you were watching the television on Sunday, yes it was my mum cheering on Cal Crutchlow waving the union jack in the grandstand...
Bradley