Spirited fightback from Bradley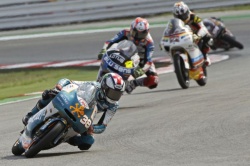 Posted on Sep 05, 2010 by Aspar Press
Misano provided a treat for spectators at 11am Sunday morning, with one of the best 125cc races of the season so far kicking off in style. It was a group race -for the opening laps. A super-speedy breakaway at the end. It was won by Marc Márquez, who continually traed to shake off Nico Terol throughout the contest. Five contenders for the victory were reduced to three Spanish stars in Márquez, Terol and Espargaró, who upped the pace to below the 1'43 mark. Terol eventually lost out after his rival gained a two second advantage on the final laps.

Nico Terol was after his third win on the trot, despite stalling on the startline and losing ground. He was able to claw his way back into the battle for victory, and led the race on lap six. From lap twelve he played a waiting game, waving Márquez on and looking to follow him. Unfortunately for Terol, his rival proved too fase and he himself had tyre problems on the closing laps, resulting in his settling for second place and twenty valuable points in the title chase.

Bancaja Aspar teammate Bradley Smith also lost positions at the start, and came close to a podium finish at Misano. He took off from pole but was swallowed up by the pack, losing three places on the opening lap and a further two in the early going. At the midway point he began to find his feet, fighting back to match up with the group in contention for third. He picked up a pair of places, but just missed out on another trip to the rostrum.

4th Bradley Smith: "The chassis setting that we had chosen prior to the race worked well and gave me confidence in the front end. I made a mistake on the tyre choice and was losing grip on some angles, but as the temperature picked up it worked better. Today has been one of the hardest races that I have ever ridden, and up to the tenth lap the engine was not working as it should have. From then on I put down faster laps and tried to pick up positions. Today I gave 120% and I think that fourth was the best result that we could have got today. I want to thank the team, because they worked tirelessly to get onto the podium. I am convinced that in Aragon we will be able to improve. I've heard that it's a fantastic track, so I can't wait to ride there."