Storming start for Smith at Le Mans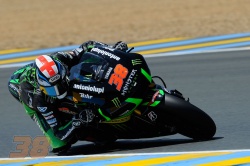 Posted on May 18, 2014 by Monster Yamaha Tech 3
Bradley Smith hoped to battle for the accolade of the leading satellite bike at the tight and twisting French circuit today yet struggled with some slight grip issues again and met the chequered flag in 10th position.
Having qualified at the front of the fourth row, Smith undertook a storming start to impressively climb up to 5th by the second lap. He ran a steady rhythm and attempted to make further advances up the field to the top four riders but unfortunately got shuffled back to 8th. At the latter stages of the race, Smith became involved in a battle with Dovizioso and Espargaro, with the outcome being 10th at the finish line.
The 23-year-old Britain's hard work permitted him to collect six valuable championship points, which aided the Monster Yamaha Tech3 Team to reach 3rd place in the team standings with 72 points.
Bradley Smith - Race: 10th - Championship: 9th - Points: 34
"I made a great start and managed to go around the outside of the first corner and recover several positions. But already by turn three I knew that my lack of side grip would probably affect my race. I have been struggling all weekend with grip issues so we decided to take a gamble for the setup of the rear tyre. Unfortunately, we still weren't able to completely get rid of it. Also having modified the bike massively it took me quite a while to adjust myself to the changes. However, I still gave it my all during qualifying and the race, but all weekend we have not been as strong as we hoped to be. I am still pleased that I finished the race, collecting valuable points and look forward to Mugello, which is one of my favourite tracks where I hope to get higher up the field."
Hervé Poncharal:
"Today was super end to the weekend in France. The good weather we have had was a real bonus, and we enjoyed having every practice session dry and uninterrupted by the weather. Brad showed determination all weekend and never gave up. The Friday morning crash didn't help him, as he didn't have the whole weekend. In the end, both riders finished in the top ten, so we will take the positive's from this week, and go to Mugello where I am sure both Brad and Pol will be strong."