Strong finish for Smith in Malaysia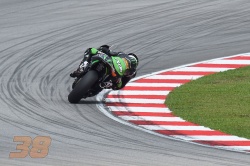 Posted on Oct 26, 2014 by Monster Yamaha Tech 3
Monster Yamaha Tech3 rider Bradley Smith courageously fought through the challenging track conditions today in Sepang to brilliantly finish in 5th place for round 17 of the 2014 MotoGP World Championship. The British rider lined up in 9th on the grid and as the 20 lap sprint began, he lunged forward when the lights flicked to green, completing the first lap in 8th position.
By the fifth lap, the 23 year old rider was running a consistent and formidable race pace in 6th as he resolutely fought the searing heat and as a result, the increasing lack of traction at the Sepang International Circuit. The British star, who clinched a debut podium at the last round in Australia then set about relentlessly plugging the gap to Stefan Bradl ahead over the following laps, inching closer as the race distance progressed. When the last lap began, Smith launched a fantastic late charge to close right in on the German rider in front and despite a valiant effort to pass in the final moments at the last corner, he just missed out successfully overtaking Bradl for 4th. Nevertheless, his thorough and determined ride to fifth saw him move up to 7th in the championship standings and conclude the three fly away races with another strong result.

Bradley Smith: – Position: 5th – Championship: 7th – Points: 119
"It was a great result for us today after what was a really tough race and tricky weekend in general. We were never quite where we wanted to be in the practice sessions and qualifying on the third row didn't make our situation easier for today. Yet, to finish the race 20 seconds back from the leader in 5th is a strong result and better than what we predicated. The race itself was very demanding and the body goes under so much stress during it, but this is why we train and do the hard work to prepare for events like these. The team did a great job and the 5th goes well with the podium from last week, to mark a positive flyaway period for me. It would have been good to get Stefan for the extra two points to aid our championship standing ambitions, but I gave it my absolute all and didn't have anything left. I am happy with the performance and now we will head back to Europe, where we will battle to finish in a similar position as I have to keep reaching these results in order to try and get the 6th place in the championship."

Hervé Poncharal - Team Manager:
"What a fantastic race and brilliant ending to the weekend for us. Both riders had a strong start and got stuck into good rhythms, plus they didn't make any mistakes and remained consistent. I was very happy to see Brad catching Stefan Bradl in the last few laps and trying his best to overtake him at the final turn. Unfortunately he couldn't make the pass, but I am really happy for him as he followed his podium in Australia with a great 5th place here. Many thanks to Yamaha for their never ending support throughout the year and it's especially nice to score this result here in south east Asia with the bikes being very important in Indonesia and Thailand, so we are even more proud to be part of it. Next we will head to Valencia where we hope Bradley will have another strong result to strengthen his championship standings, with the team position now being third in front of Ducati which is something we definitely want to keep. So, it should be a very hot final in all departments."