Successful second day at Sepang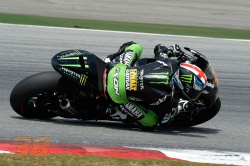 Posted on Feb 05, 2014 by Monster Yamaha Tech 3
The Monster Yamaha Tech3 Team made firm progress on day two of the first official MotoGP test at the Sepang International circuit. Monster Yamaha Tech3 rider Bradley Smith lowered his lap time considerably on the second day of testing as he prepares for the 2014 MotoGP World Championship.
The Malysian weather once again provided perfect conditions for the testing, with the session running uninterrupted until 6pm local time in Kuala Lumpur.
Smith completed another positive day of testing which was focused on the evaluation of different electronic and suspension settings. Before running his first shortened race simulation of 15 laps to collect useful data in preparation for the forthcoming season.
Bradley improved his lap times from the previous day, and was quicker by 1.2 seconds. With 66 laps under his belt, he established himself as most hardworking permanent MotoGP rider on track today and his application saw the Monster Yamaha Tech3 rider just three hundredths of a second and right behind the Factory Yamaha of Jorge Lorenzo. He finished the session with a best time of 2.00,603 min, in 7th place and just over 6 tenths behind the leader, Marc Marquez.
The final day of testing will commence tomorrow at 10.00am (Local time – GMT +7) at the Sepang International circuit, Malaysia.
Bradley Smith - 7th – 2.00,603 min:
"In general, it was a positive day. I rode 66 laps, what made me finish on the podium if you consider all the riders and I am really pleased with our performance. I analyzed a lot of the new electronic ideas, the Bridgestone tyres, and the new suspension settings, all were very positive. I also did a kind of race simulation. This was 15 laps just to try and understand the fuel consumption, and also to understand the physical point of view and where I need to improve my preparation. All in all we made a good step, especially compared to yesterday. I lowered my lap time by 1.2 seconds and moved up to 7th position, which was only 6 tenths behind Marc Marquez, which is obviously still a bit, but considering how close we are to Jorge and Valentino, I am happy with the work we have done."