Super Smith storms to seventh in Moto2 qualifying debut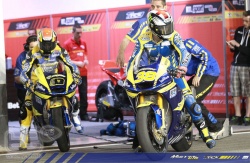 Posted on Mar 19, 2011 by Tech3 Racing
Bradley Smith produced a dazzling performance under the spectacular Losail International Circuit floodlights in Qatar tonight, the British rider claiming a stunning seventh position in his first ever Moto2 qualifying session.
The 20-year-old clocked a best time of 2.01.442 on the new Tech3 Racing machine to claim a place on the third row of the grid for tomorrow night's season opening Commercialbank Grand Prix of Qatar.
With each row now made up of three and not four riders in a new qualifying format introduced for 2011, the action in the final ten minutes was as intense as ever.
Smith thrived on the pressure though and showed he's adap ted to the Moto2 class in breathtakingly fast fashion when he jumped into fourth position with just eight minutes of the session remaining.
At the end of the 45-minute session, Smith was only 0.012s away from claiming a place on the second row as he comfortably lapped faster than a host of riders boasting more experience in the Moto2 class. Smith is now confident he can fight in the leading group in tomorrow's 20-lap race.
French rider Mike di Meglio was unable to cure a chatter problem that has hindered his progress throughout the opening weekend of the season. He tried a range of set-up changes to try and solve the issue and is confident of making further improvements prior to the race. A lap of 2.02.352 will see him start from 19th on the grid.
Bradley Smith 7th 2.01.442 – 19 laps:
"This obviously has been a fantastic qualifying for me. It was my first qualifying session in Moto2 and it went better than I expected. I actually did my best lap time on my with a new tyre, so that gives me a lot of confidence. I did another a few laps behind people too and that helped me learn a lot, which is what I need to do to help build my experience. I still feel that there are some modifications that we can make for the race and I hope it will make easier for me to do a fast lap time. I don't know if we can improve on the lap time, but making it easier would obviously be a big help. The Tech 3 Racing Team has been working incredibly hard to give me a competitive bike. Seventh position on the grid that gives me a good opportunity to start with the front group and it will help me to get a lot of experience in my first race. I'm really looking forward to it and can't wait for tomorrow night."