Tech 3 Racing aims for strong start in Moto2 opener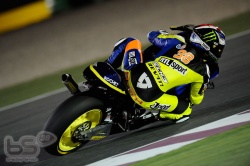 Posted on Apr 07, 2012 by Tech3 Racing
Tech 3 Racing Team rider Bradley Smith is confident he can fight for points-scoring finishes when the ultra competitive Moto2 World Championship gets underway in Qatar tomorrow night.
British rider Smith qualified his Mistral 610 machine in 12th position on the grid for the 20-lap race after a typically closely contested qualifying session under the spectacular Losail International Circuit floodlights this evening.
Less than a second split the top 15 riders and Smith's best lap of 2.01.015 was less than 0.4s away from placing him inside the top six. The 21-year-old was hoping to qualify higher up the grid after ending practice in ninth position, but he has put in a tremendous amount of work improving the race set-up of his Mistral 610 machine and he is optimistic that he can fight for a top six finish when the third Moto2 World Championship campaign kicks off.
Bradley Smith 12th 2.01.015 – 17 laps:
"I'm a little bit disappointed to be back on the fourth row because you really want to be on the third row at least in a class that is as competitive as Moto2. But looking at the guys around me, a lot of them beat me and were a bit faster in winter testing, so I have to be happy because we made some important improvements to the bike. Tomorrow it will be very important to get a good start and try to attack right from the beginning to pick up some places and get as close to the lead group as quickly as I can. After that it is likely to become a slipstream race with the home straight being so long. As it is the first race we are going into the unknown a little bit, but our bike is definitely better over the longer race distance than it is for one fast lap in qualifying. I'm sure we will really come on strong after half distance, but after a long winter I am just really excited to be racing again."