Tech3 duo ready for Austrian GP despite challenging qualifying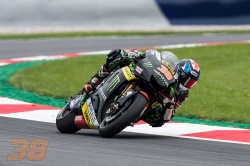 Posted on Aug 13, 2016 by Monster Yamaha Tech 3
Monster Yamaha Tech3 Team rider Bradley Smith undertook a solid recovery from what was an uphill start yesterday in the 10th round of the MotoGP World Championship. The 25-year-old, who endured a tough opening to the day at the undulating Spielberg circuit, concluded the first session in 17th as he completed 22 laps. However, the English rider remained resolute and after the changes the team undertook, Smith delivered a promising performance in FP4 before attacking as soon as Qualifying One began. His personal best lap was shy of the cut-off point for Q2 by just over a tenth of a second, however, he made a huge improvement of 1.815 on yesterday's FP2 time. In addition, this result would have left him just outside the top ten in qualifying 2. The British star remains focused and optimistic of picking up a strong finish tomorrow and will commence the Austrian Grand Prix from fifth row of the grid.
Bradley Smith: – Position: 14th – Time: 1'24.126 – Laps: 9
"We have gained some more experience and track time which means that we were faster today, even if we didn't have the best start to this weekend. Yet, I am satisfied with my performance because we made a big step from yesterday with regards to the lap time which I cut by just under two seconds today. In FP4, I began to find a better rhythm than what we had so far this weekend, which of course, is pleasing. It goes without saying that we are going to try to improve the Yamaha this evening so that we can have a more consistent bike for tomorrow. Yet, on the whole, the team has done a fantastic job, so I must say thanks to them because we're all in this situation together and we are trying as hard as we can. I believe that we have a solid race pace that will enable me to fight inside the top ten, so I need to concentrate on a good start and then we'll see what happens from there."