Tech3 duo seize fantastic second row starts for French GP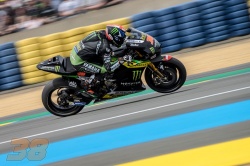 Posted on May 07, 2016 by Monster Yamaha Tech 3
​Bradley Smith superbly sealed a starting position at the rear of the second row for tomorrow's race after reaping the rewards of his hard work from yesterday. He kicked off the day by completing 21 laps in FP3 and then set his best time on the final run which confirmed 9th and allowed him to progress instantly through to qualifying 2. Here, Smith immediately got to work and after building up his speed, he powered to his personal best on lap seven. The result sees him repeat his qualifying placement from last year, and tomorrow the young Briton will seek to battle to the top independent rider position in front of the Tech3 fans.
Bradley Smith: – Position: 6th – Time: 1'32.820 – Laps: 8
"First of all, it was great to go directly through to Q2 and it was the first time this year that we've achieved this, so I think the team added another year to their lives because Q1 is obviously quite stressful! All day we've slowly been improving the bike and I'm feeling more comfortable all the time. With every lap I'm learning and getting faster so even though we still need to make some final adjustments for the race, I believe that we have a strong base setting. In terms of the result, I can't really be any happier as we have turned around what has been a difficult first four races. To be on the second row at the team's home Grand Prix which is also sponsored by our title backer, Monster Energy, is great. It gives me a fantastic opportunity to start well tomorrow and then try to gain some more knowledge from fighting with the front guys. I believe the race will be another learning experience for me because of the new setting, which I haven't tried on a long run yet, and also the tyres but I will be as prepared as possible. Anyway, the team did a fantastic job and they've had a lot of patience during these opening events, so to finally reward them and get back to where we need to be is super and I must give a big thanks to them. I am ready for the team's home race and tomorrow will be 28 laps of fighting to get that top satellite position."