Tech3 finish as leading Yamahas in Texas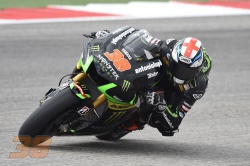 Posted on Apr 13, 2014 by Monster Yamaha Tech 3
The Monster Yamaha Tech3 Team riders today finished round 2 of the MotoGP World Championship in a highly determined manner, with both riders achieving their best ever results in the premier class. Bradley Smith finished in 5th position after narrowly missing out on a debut podium. Despite the threat of rain, the race remained uninterrupted and dry in Austin, Texas.
Bradley Smith delivered a fierce campaign to challenge for a podium position, before guiding his Yamaha YZR-M1 home in what was his best ever MotoGP result. After having qualified in 8th, the British rider dropped back a place during the first lap, but soon set into a smooth rhythm and proceeded to move up the field, progressing up to 7th a few laps later. He then closed in on the Factory Yamaha of Valentino Rossi before passing him quickly. On lap 14 the young British rider overtook his teammate and swiftly caught the 5th placed rider three laps later, before hunting down the remaining competitors to challenge for the final podium position. Smith rode tirelessly to reach them, and then exchanged forceful moves with Stefan Bradl right down to the chequered flag fighting for 4th position. Even though the battle didn't come to a lucky end, on what was once again a difficult racetrack for all the Yamaha bikes, Smith brilliantly showed his progression, finishing as the top Yamaha on the timesheets.

Bradley Smith – 5th - 11 points:
"I am very pleased with my performance during the 21 laps with this being the most physical track on the calendar in my opinion. I made it hard work for myself. It's difficult to get a perfect setting around here as there are so many different corners, and it is impossible to make one setting which suits all of them. You have to make the best compromise. I was a bit too aggressive during the first laps, and overheated my brakes and the front tyre got really warm. So rather than risking anything, I let them recover, which took me 3 or 4 laps. I saw Pol come past me and then Valentino getting away, so I just had to take a breath. Once the tyres had stabilised, I started moving forward. I then thought either the bike is going to come to me or I am just going to have to sit where I am. With 12 laps to go, I realised that I had a chance and put my head down. I got to Bradl and gave everything I could, and when I reached those left right left corners, where I tried to go underneath him, my heart rate just went through the roof. I put all my cards on the table, as I knew that Dovizioso was edging away, but I am still really pleased to be the top Yamaha".
Herve Poncharal – Team Manager:
"Luckily no weekend is ever the same and after the big disappointment in Qatar, we have great joy in Texas. Our two guys did a brilliant race showing high determination and fighting spirit. Bradley is where he was in Qatar, which is showing that it is not a coincidence. He had his best result so far in MotoGP and will definitely show us more very strong performances during this year. I think in the next few rounds we will see him even nearer to the front. With both riders in the top six we also got good points for the championship which is very positive especially after the unlucky start we had in Qatar. Also the fact that we are the first Yamahas makes me really happy and I'm glad that we could contribute important points for Yamaha in the constructor's championship. I believe there is still more to come and I would like to take this opportunity to thank Yamaha for the great technical support we get. I am convinced both riders have learnt a lot today and will be even stronger in Argentina".