Tech3 leave the Czech Republic confident after positive Brno test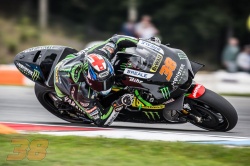 Posted on Aug 22, 2016 by Monster Yamaha Tech 3
Monster Yamaha Tech3 Team rider Bradley Smith undertook a confidence boosting test at the Masaryk circuit today as he closed the session in 6th. The 25-year-old sampled new electronics, examined suspension options and also reconfirmed the setup configurations that he used at last week's Czech Grand Prix. With no action for any MotoGP riders occurring in the morning due to a dirty track surface, the British rider got straight to work after midday and immediately began his efforts. Smith posted his personal best time in the final hour of the day and on his penultimate lap, which resulted in him finishing under half a second adrift from third. He now confidently looks on to his home Grand Prix at Silverstone where he intends to clinch the leading satellite position in front of his fans.
Bradley Smith: – Position: 6th – Time: 1'56.619 – Laps: 47
"I feel that we have picked up some valuable knowledge that will certainly help us in the future even though we didn't have a huge amount to test today. We spent the time clarifying certain aspects that we needed to look at so that we can head into Silverstone with a bike that has the best possible setup. We've learnt a lot in these past two races and we are starting to find our rhythm, hence why I wanted to check a few things again today. In addition, we've improved the bike in corner entry and the initial pickup of the throttle. I still think that we need to work on the sliding going into the corner and then the spinning on the exit. Moreover, for one lap on new tyres, I don't feel too bad anymore and we're going in the right direction. Yet, when the asphalt loses its grip on a Sunday, that seems to be where we struggle the most. Anyway, it's time to head home but after the work that we completed, I am happy and confident as we head towards Silverstone."