Tech3 Racing Team complete 2011 preparations in Jerez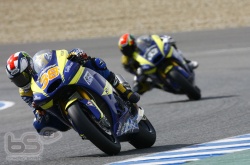 Posted on Mar 06, 2011 by Tech3 Racing
The Tech3 Racing Team will head to the first round of the 2011 Moto2 World Championship in Qatar later this month in optimistic mood having completed its pre-season preparations in Jerez today.
After the first day of the Jerez test fell victim to more heavy rain that has caused major disruption to the winter testing schedule, Bradley Smith and Mike di Meglio were able to take advantage of improved conditions for the final two days to carry out vital development work on the new Mistral 610 machine.
Smith worked tirelessly to improve his confidence with the race set-up of his machine, the British rider completing in excess of 160-laps to also help build up his experience of the heavier and more powerful 600cc four-stroke machine ahead of his debut season in the ultra-competitive Moto2 series.
Smith was particularly impressive on the second day, the 20-year-old outpacing a host of riders with significantly more Moto2 experience to clock the sixth best time with a 143.997. He was 15th quickest on the final day and while unable to improve his best lap time, he was able to produce a much more consistent pace in full race trim having worked closely on a range of settings with crew chief Tom Jojic.
Frenchman Mike di Meglio was also satisfied with his performance, the former World 125cc Champion spending most of his time concentrating on improving his pace and confidence with the harder option Dunlop rear tyre. Like Smith, di Meglio was able to assess and analyse a wide range of set-up options to get a clear understanding of the direction he will take when the season kicks off under the Lo sail International Circuit floodlights in Qatar on March 20.
Bradley Smith, 11th overall, 1:43.997:
"I am quite tired now as we did 160 laps in two days but it was hard work we needed to put in and it was definitely worth it. We tested everything we had inside the truck, so we know exactly how the bike is working and in what direction we have to go when the racing kicks off. We did not improve our lap times today, but we improved in the consistency. I was able to ride fast on old tyres, so we are good for the race distance and that has given me a lot of confidence for Qatar. We will try to work a little bit between here and Qatar to figure out how we can close the gap on the front guys. That is going to be important for the best lap time in qualifying. But I am feeling a lot more comfortable with the bike and the 600 is not feeling quite so alien now. We've still got work to do but between now and Qatar we'll analyse a lot of data and come up with a plan for the start of the season. I'm really looking forward to racing now."
Combined Times of 3 days testing in Jerez:
1 - BRADL - 1:42.697; 2 - MARQUEZ - 1:42.980; 3 - CORSI - 1:43.046; 4 - TAKAHASHI - 1:43.338; 5 - LÜTHI - 1:43.435; 6 - ESPARGARO, Aleix - 1:43.504; 7 - SIMON - 1:43.542; 8 - REDDING - 1:43.565; 9 - PIRRO - 1:43.751; 10 - CORTI - 1:43.802; 11 - SMITH - 1:43.997; 12 - CLUZEL - 1:44.012; 13 - KALLIO - 1:44.019; 14 - SOFUOGLU - 1:44.189; 15 - KRUMMENACHER - 1:44.203; 16 - NEUKIRCHNER - 1:44.211; 17 - DE ANGELIS - 1:44.340; 18 - AEGERTER - 1:44.378; 19 - IANNONE - 1:44.494; 20 - FORES - 1:44.554; 21 - PASINI - 1:44.570; 22 - RABAT - 1:44.633; 23 - BALDOLINI - 1:44.649; 24 - DE ROSA - 1:44.657; 25 - DEBISE - 1:44.699; 26 - NOYES - 1:44.717; 27 - WEST - 1:44.758; 28 - COGHLAN - 1:44.814; 29 - PONS - 1:44.853; 30 - DI MEGLIO - 1:44.884; 31 - HERNANDEZ, Yonny - 1:44.934; 32 - ESPARGARO, Pol - 1:44.948; 33 - SIMÉON - 1:44.983; 34 - WILAIROT - 1:45.204; 35 - CARDUS - 1:45.304; 36 - PIETRI - 1:45.592; 37 - HERNANDEZ, Santi - 1:45.649; 38 - AL NAIMI - 1:46.506