Tech3 ready for glory after constructive Brno test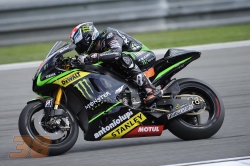 Posted on Aug 18, 2014 by Monster Yamaha Tech 3
Today the Monster Yamaha Tech3 team embarked on a thorough and in depth test programme at the Automotodrom Brno with a series of specific aspects targeted in the final test before the end of the season.
The session began at 10:00 at the 5403 metre circuit with dry conditions allowing the Monster Yamaha Tech3 team's schedule to run uninterrupted until 15:00 in the Czech Republic.
Britain's Bradley Smith accomplished today in 6th position with a best time of 1'56.451 after completing a positive and confidence boosting test in preparation for the seven remaining races of the 2014 MotoGP World Championship.
The 23 year old rider relentlessly undertook 60 laps as he worked to improve the feeling of his Yamaha YZR-M1 with full fuel and new tyres as he felt this is where he had a lot of margin to improve. In addition, he explored the race setup of his MotoGP bike with his Monster Yamaha Tech3 team as well as completing some tyre testing.
His final time of 1'56.451 was only 4 tenths of a second from 3rd, as he now sets his sights on his home Grand Prix at Silverstone with supreme confidence where he will battle for a high end result in front of his fans.

Bradley Smith: Position: 6th – Time: 1'56.451
"I am really happy with the end results from today's test as we have identified a few areas where we were struggling as well as undertaking some refinements which will help us at the beginning of the race. We now know what went wrong on Sunday, but we definitely have the pace to fight in the top five. So we mainly focused on this and I rode a lot of laps with full fuel loads. I did a low 56.4 at the end of the day with a full tank and brand new tyres like at the start of the race, which was really constructive. It was more of a case of amending at this test and not trying lots of new things and we have definitely found something with the rear shock setting to help with the full fuel load. Also, I explored a few tyre options and we know the direction to take there now. It was an information gathering day, so it's onwards to Silverstone where I will use this new knowledge to get closer to the front and give British fans something to cheer about."