Tech3 riders endure tough Catalunya GP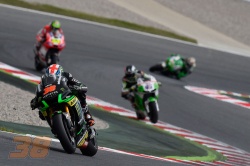 Posted on Jun 15, 2014 by Monster Yamaha Tech 3
Bradley Smith today completed his 25-lap charge around Catalunya in 10th position by battling relentlessly to claw back positions after getting squeezed down the order in the opening lap. Smith began the Grand Prix which is sponsored by Team Tech3's title backers Monster Energy from 8th on the grid but despite a good start, he completed the first lap in 12th. However, the young English rider remained absolutely determined and gave his best by attempting to fight his way back up the field, reaching 10th by lap 15.
With the rain still threatening to fall in the latter stages of the Grand Prix, Smith was unfortunately too far adrift to bridge the gap to the rider in front. Yet despite the disappointing end to a GP that saw him top the FP2 practice session on Friday, the 23-year-old British rider collects more vital championship points and heads to the Dutch TT fully confident of a higher scoring result.
Bradley Smith: - Position: 10th - Championship: 10th - Points: 40
"Unfortunately there's not a lot I can say as I am obviously disappointed with the outcome of today. We had a strong weekend until qualifying as I finished 4th overall in the combined standings and the bike felt really good. But for some reason my feeling of the bike today changed especially at the beginning of the race and I wasn't too confident on it. Yet from the mid section to the end of the race, things slightly improved but unfortunately I was already too far back at this point. Honestly I am frustrated as in the race, my pace wasn't anywhere near the performances I have had during the weekend. It is another missed opportunity but I will bounce back in Assen where hopefully we can have a strong weekend."
Hervé Poncharal - Team Manager:
"Whilst there were no words to describe Mugello's MotoGP race, for this race I don't think there are any more superlatives left! From the word go it was an incredible battle and the race could have been anyone's in the top three plus everyone was nervously looking at the sky as the rain was meant to be coming which added some intensity to the fight. In terms of Tech3's riders, Bradley didn't have such a great start which is a real shame as at the end of the race he was lapping quicker than the group of Dovi, Pol and Aleix but unluckily he was already too far behind. Clearly both of our riders could have been up there but that's racing and we still picked up some valuable points for the championship. Now we can just look forward to the next race in Assen where we had a fantastic pole position and 3nd place last year with Cal Crutchlow."