The ultimate adventure has only just started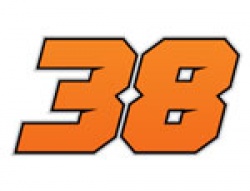 Posted on May 30, 2013 by George Penny
Those first four MotoGP grands prix could not have been a steeper learning curve for Bradley and he's come through the test. After the disappointment of crashing out of the first grand prix in Qatar he's picked up vital world championship points at the next three rounds improving his finishing position each time culminating in a ninth place in the rain at Le Mans.
Putting his four races in perspective, Bradley is equal on points with former Moto2 World Champion Stefan Bradl in his second MotoGP season and just one point behind fellow MotoGP rookie Andrea Iannone. After the crash in Qatar he's finished the next three races and has closed the time gap on the race winner each time.
Bradley knew how tough it was going to be but after those opening four rounds he's ready to push on using the experience gained in different conditions starting at the Italian Grand Prix at Mugello on Sunday where he won the 125cc race four years ago.
"I look at it as my year at the MotoGP University when my real exams will come in the second half of the season and these races are modules and tests as I'm going along. My actual feeling at the end of the races is quite strange. I'm not really happy or sad but I'm just ticking the boxes to ensure we understand what we have learnt without too many mistakes while improving all the time. The race is not a race at the moment but just an extended practice. I always said it would take me four races to get up to speed and it has and so now let's see what we can do after this.
It was a real baptism of fire at the last round in Le Mans, racing a MotoGP bike for the first time in the rain. I had ridden in the rain before at Sepang and Valencia testing but not enough to have any real confidence and feeling on the bike. I learnt a hell of a lot and was really pleased with the last ten laps when I pulled back 12 seconds on Michele Pirro and almost grabbed eighth place.
I also managed to quite easily finish in the top ten of practice to go straight into the final qualifying and lap within one second of the leader in the dry. All in all it was a very successful weekend for all of us."
The ultimate adventure has only just started.