Title battle heads to Portugal with fifty points still up for grabs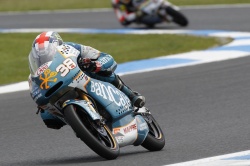 Posted on Oct 26, 2010 by Pixel Pixel
After a three-week globetrotting adventure to the other side of the planet the 125cc World Championship returns to European shores this weekend with the Autódromo Fernanda Pires de Estoril ready to welcome the most open title battle since 2007. Not since Hector Faubel and Gabor Talmacsi battled for the crown in the final round at Valencia has the minor category gone to the wire but it looks certain to do so this time around. What is for sure is that it will be a Spaniard who takes the title, with Nico Terol, Marc Márquez and Pol Espargaró separated by just seventeen points and just fifty left to play for.

Bancaja Aspar rider Terol lies twelve points shy of current series leader Márquez thanks to a run of seven consecutive podiums that includes two wins and three second places. The Spaniard is full of energy and determination ahead of the next battle in Portugal and remains confident that he can take the fight to his home round in Valencia next week. He has good memories of his second career podium at Estoril in 2008 and is keen to make it to the top step this Sunday. His team-mate Bradley Smith has the same objective after failing to make the podium at the last two races. The Briton was third in Portugal last season but is looking for his first win of the season.

Bradley Smith: "It was fantastic to get home after such a long time away but now we're looking ahead to the next round this weekend in Portugal. The last two races of the year are going to be important for me so we have to work hard to make sure we come away with good results. I want to be on the podium at both of them and if possible pick up my first win of the year. Nico is fighting for the title, which is very important for the team, so if I can help him to take points off Márquez I will do my best. I finished on the podium at Estoril last year and my feeling with the bike was good all weekend so I hope it's the same again this time around."