Title to be decided this weekend at Valencia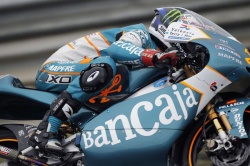 Posted on Nov 03, 2010 by Pixel Pixel
The 2010 season is almost over, with the final round set to take place this weekend at the Ricardo Tormo circuit in Cheste, Valencia. The MotoGP paddock packed up in Portugal on Sunday night and headed straight over the border for the fourth Spanish race of the season - one that will decide the third and final title of the Grand Prix season in favour of another Spaniard. It is the first time the minor category title has gone down to the wire since Bancaja Aspar pair Hector Faubel and Gabor Talmacsi arrived with it all to play for in 2007 and this time the team have another rider in with a shout, Nico Terol going head to head with his compatriot Marc Márquez on the back of one of the most dramatic races of the season last time out at Estoril.

Regardless of whether he wins the title this has been Terol's best season by far, with thirteen podiums from sixteen races and a worst result of fourth place, having missed the other races through injury. In previous seasons and in different circumstances he would already have the championship wrapped up but this year both he and Márquez have been on another level to their rivals. Nico's chances are remote but he is refusing to give up until the curtain finally falls on the 2010 season. His team-mate Bradley Smith will look on Sunday to build on his fifth podium of the season in Portugal.

Bradley Smith: "It is scary to see how time flies in this business. It seems like a couple of days since we were in Qatar and we're already on our way to Valencia. I am nervous and a little tense - I just want to get there and get on the bike. I know it is an important race for the Bancaja Aspar team becuase all the fans are there and the sponsors too, so I want to give them my best performance of the season. The atmosphere at the Spanish races is always brilliant and personally I feel very at home. I am highly motivated to finish the 2010 season in good form and have a more relaxing winter as a result."