Top 10 for battling Smith in Japan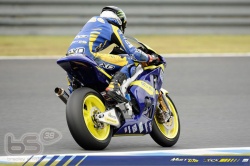 Posted on Oct 02, 2011 by Tech3 Racing
Tech 3 Racing Team rider Bradley Smith battled hard to another impressive top 10 Moto2 result at a cool and cloudy Twin Ring Motegi circuit in Japan this afternoon.
Smith got a decent start from the second row of the grid and held fourth place on the opening lap, but a lack of rear grip in the coolest temperatures experienced all weekend meant the 20-year-old was unable to launch an attack to try and claim a fourth podium finish of the campaign.
The British rider once again showed his grit and determination to come out on top of a titanic tussle for seventh place involving Dominique Aegerter, Esteve Rabat and Mika Kallio. Despite not having the rear grip he anticipated, Smith held off the trio wi th some outstanding riding on worn tyres to collect his ninth top 10 finish of the 2011 World Championship.
Bradley Smith 7th – 121 points:
"We can't be satisfied to start the race fourth and finish back in seventh, but I did the best job I could with the package I had today. I started the race full of confidence that I could compete for the podium based on how competitive my times were in practice and qualifying. But right from the start it was obvious I didn't have the same grip I had all weekend and it made it very difficult. I'm not really sure why we didn't have the same grip, so we need to analyse deeper and try and find an explanation. In the early laps I couldn't keep my pace and lost a few places, so I suppose I should be satisfied that I kept my head down and battled hard right to the end to take seventh. My pace was consistent over the final 10 laps, so that is a positive, but I am pretty disappointed to finish so far back. We'll put this result behind us and try and fight again for the top six in Australia, which is a track I can't wait to ride the Mistral 610 at."

Herve Poncharal – Team Manager:
"We went into the race with high expectations that Bradley could battle for the podium because he had been very fast and consistent all weekend. He made a good start but he immediately started to lose some places, so we knew he didn't have the same feeling or confidence like he had in practice and qualifying because normally this never happens to him. The bike was set-up the same for the race as qualifying, but it is clear that Bradley has some rear grip issues and we need to investigate further what happened. It is a shame for him and the Tech3 Racing Team because we could have definitely been in the hunt for a podium today. Bradley still did a great job and never gave up and he showed his fighting spirit to take seventh. He is still in the fight for the third in the Championship and we hope he can be battling at the front again in Phillip Island."