Tough day for Tech 3 Racing at historic Indianapolis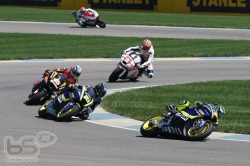 Posted on Aug 20, 2012 by Tech3 Racing
The Tech 3 Racing Team experienced a tough Moto2 race at the historic Indianapolis Motor Speedway this afternoon after Bradley Smith battled hard but unfortunately missed out on points-scoring places.
The 26-lap race got underway in gloriously sunny conditions and after a difficult practice and qualifying both Smith and Simeon were optimistic that they could challenge for a double top 10 finish.
That confidence seemed well placed when Bradley made a fast and aggressive start, surging from 14th on the grid to 10th.
Smith though was unable to maintain his blistering early pace and a vibration issue from the rear of his Mistral 610 machine saw him drop outside of the points after only three laps.
The British rider continued to push hard but he couldn't force his way back into contention for the top 15 to keep his impressive record of scoring points in every race going to next weekend's Czech Republic round in Brno. Smith eventually finished in 16th.
Bradley Smith 16th - 69 points:
"That's actually a weekend I want to forget. Right from the start of the first session we struggled a lot with the bike. We tried many different things throughout the weekend to find a better feeling but we always ended up having the same trouble and that was a lack of grip. On low grip tracks like this we always have an issue and in the race a vibration issue from the rear didn't help me. We need to investigate what the problem was but something definitely wasn't right. It's frustrating to be so far off when at the last race in Mugello I was so close to the podium and here we didn't really set the bike up much differently. Today was also the first time I finished outside of the points all season and that is disappointing. At least we don't have to wait too long to try and put this weekend behind us and I'll be giving it my all in Brno next week to bounce back. I'm sorry for the team especially after the amazing work they put in during these days and we deserved something better."
Herve Poncharal – Team Manager:
"After the really good result and the high expectations we got from a fantastic weekend in Mugello we can only be disappointed with today's result. We were hoping for another really good race from Bradley but things have been very difficult right from the first practice and it seems like we lost our way a little bit. We are out of the points and that is very disappointing and honestly speaking that's not where we should be. Xavier was having a decent race and it was unfortunate that he crashed while he was battling with De Angelis because after a difficult weekend it would have been a positive to have both bikes finish the race. All we can do is keep working hard and give our maximum effort to try and bounce from this disappointment in Brno next weekend."