Two Wheels for Life: Ultimate KTM Goodie Package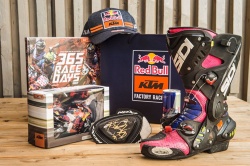 Posted on May 28, 2018 by George Penny
Two Wheels for Life and Red Bull KTM Factory Racing are giving you the chance to bid on an official Red Bull KTM Factory Racing VIP Goodie Package, including a MotoGP KTM RC16 Model, a limited edition annual photo book of KTM Factory Racing 365 Race Days 2017, a team cap PLUS a signed #38 Bradley Smith boot that you can collect in person at the Catalan Grand Prix at Barcelona/Spain on Saturday 16th June 2018.
The winning bidder and their guest will have access to the paddock on Saturday evening and are invited by Red Bull KTM Factory Racing to attend the special prize-giving event in the hospitality area where you will meet the KTM Factory riders to collect your items and get them signed by the riders.
To bid on this unique item of MotoGP/Bradley Smith memorabilia, click here:
This auction closes on Friday 1st June 2018 at 21:00 (BST).