Wet weather fails to dampen Smith's blaze to 5th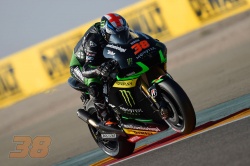 Posted on Sep 28, 2014 by Monster Yamaha Tech 3
Monster Yamaha Tech3 rider Bradley Smith rode a superbly executed race whilst battling the challenging wet conditions to brilliantly land 5th position at the Motorland Aragon circuit today. The British star began the race which was initially dry, from 11th on the grid as he looked to surge through the field straight away and make a charge for the leading bikes. However Smith had to undertake evasive action to avoid colliding with another rider which caused him to slip down to 20th at the end of the first lap. Yet, the 23 year old rider composed himself and rapidly made amends as he reached 11th by lap 5 after firmly setting into a solid and consistent race pace.
With 14 laps to go, Smith was running in tenth and closing down the riders in front before breezing past Stefan Bradl and Alvaro Bautista to seize 8th as the rain began to fall. On lap 18 he made the decision to enter the pits to swap to his bike with the wet setup and then climbed back up to 7th on the 20th lap. Following this, the British rider proceeded to overthrow his teammate on lap 22 to clinch 5th and brilliantly stormed to the chequered flag in this position to equal his best finish in MotoGP. In addition, Smith overtook a colossal fifteen riders from the end of the first lap in what was an impressive showing of pure determination aboard the Yamaha YZR-M1.
Bradley Smith: – Race: 5th – Championship: 10th – Points: 85
"It was a great result today and I accomplished my ambition of getting into the top five although the conditions may have helped me in achieving this. It was a tough race and I could have finished even higher still had I not dropped back to 20th on the first lap. I tried to take some aggressive passes at the beginning and actually hit the back of someone, who I think was Valentino at turn 5, which sat me up. I then had a speed wobble coming over the sweeping left uphill corner and I was going to possibly clip another rider in front but ended up 20th. I made the decision to pit at the same time as Cal, so I think a podium could have been possible for me, but I must say congratulations to him for the result. As for me, I am pleased to get 5th and I've got to say thank you to the team for the work they have done this weekend. Now I look forward to the upcoming flyaway races where I will once again be doing my best to get into the top six."
Hervé Poncharal - Team Manager:
"To have both riders finish 5th and 6th equals our best team result so far this year so we obviously have to be satisfied. When I had a look at the weather forecast yesterday I was a bit worried about what could occur today but both riders did a great job which should fill them with confidence for the next races. However, there is a slight bitter taste in our mouths as we missed a great opportunity for podiums when you see how some of the other riders capitalised on the weather. We were just a bit too late. Bradley pitted one lap earlier which was better than Pol, but he was still quite far behind due to his mistake at the beginning which was a big shame as his pace on the dry tyres when it was just starting to rain was very good. In addition, I must congratulate Jorge on the wise decisions he made during the race to secure his first victory this season."