Win a signed Bradley Smith REV'IT Knee Slider!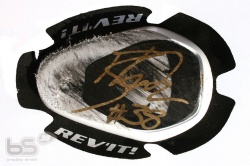 Posted on May 26, 2012 by George Penny
With the British GP at Silverstone, just over a month away, it seems the ideal time to launch this unique opportunity to win one of Bradley's REV'IT! knee sliders which he's also signed!
This rare item of memorabilia was used by Bradley at the Grand Prix of Portugal earlier in the year and is an amazing chance to own a piece of BS38 Moto2/MotoGP history.
Competition Rules & Guidelines
1) To enter this competition, you need to have purchased an Official BS38 Sticker Sheet.
These are still available to purchase via the website shop by clicking here.
2) We need you to then submit a picture of where you have stuck your BS38 sticker/s. Be as creative as you like, you may have stuck one to your bike for example, so take a shot of that in a unique location. I'm not going to give you any more ideas, but we want you to think 'outside the box'.
3) Send your email with attachment to: [email protected] with the subject 'Knee Slider Comp'.
Please include full name and your paypal Unique Transaction number or the date of when you purchased your sticker sheet as we can only accept one entry per person.
Image size not to exceed 1MB in size.
From the entries received, we will then shortlist a maximum of 20 images and post in a special gallery on the Official Bradley Smith Website for Bradley to choose the final winner.

Closing Date for entires: 14/06/12
*Additional prizes maybe added depending on the amount of entries received.