WithU Motorsport and Bradley Smith present MotoE World Cup project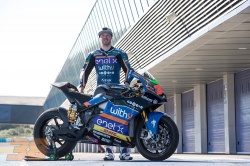 Posted on Mar 10, 2020 by One Energy Racing
The MotoE World Cup 2020 preseason got underway this Tuesday at the Jerez-Angel Nieto Circuit, at which the WithU Motorsport team presented its new project for this year at the start of the first test. After a successful debut season, ONE Energy Racing returns to action with a new Title Sponsor and a different image, but retain Bradley Smith as their rider. He will seek to fight for electric motorcycle competition title this season.
Adopting the new name of WithU Motorsport in recognition of their main sponsor, the team begin a new phase in the MotoE World Cup. Accompanied by a new image, a modern livery and new sponsors, the WithU Motorsport team want to take a step forward in the championship and fight to the end for the title once again.
Bradley Smith showed in 2019 that he is capable of good results. In the debut year for the class, Smith managed to get on the podium at four of the six races and finish as runner-up overall. With his renewal, WithU Motorsport recognises the importance of an experienced rider who has accumulated 14 seasons in the World Championship, with runner-up awards in 125cc and MotoE, three race victories and a total of 29 podiums - including two in MotoGP.
The MotoE season will begin on May 3rd in Jerez and will have 5 rounds, with a total of 7 races. A double-header at Valencia will conclude the season.

MATTEO BALLARIN – Team Principal
"We are very excited to be starting another year of our adventure in the MotoE World Cup, and to present our new brand, new colours and new sponsors for 2020. WithU Motorsport is one of our main sponsors, and are the brand with which Europe Energy decided to partake in motorsport competition - in the Motorcycle World Championship and World Rally Championship. We decided to make even more of a commitment to this competition, giving them naming rights for the team. We have a fantastic livery for this season! We continue to have Bradley Smith on our team after the great year he had in 2019, and we are confident that with him we can fight for the title."

BRADLEY SMITH – WithU Motorsport rider
"I'm very pleased to be remaining with WithU Motorsport for a second season in the growing class that is the MotoE World Cup. Being involved in a team structure that is showing success in every category, from MotoGP down to MotoE, is very motivating for a rider. We have a great atmosphere in our group. 2019 taught us many things and we achieved some really positive results. I want to make the most of my experience and the target is clear: Winning the 2020 title. It won't be easy because we have only got 5 rounds in the series, so we can't afford to make any mistakes. We start 2020 with a new design and livery; thanks to WithU for continuing with us for another season, in which we will try to improve on our second position from last year and try to win the title."