WithU Yamaha RNF MotoGP Racing team reveals 2022 livery and programs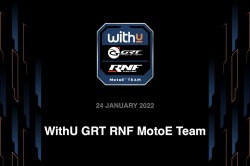 Posted on Jan 24, 2022 by WithU GRT RNF MotoE
There could not have been a more iconic and original stage than the Philharmonic Theater in Verona, where WithU Yamaha RNF MotoGP Racing unveiled the new livery of the Yamaha YZR-M1 for the 2022 MotoGP World Championship, but also the one dedicated to MotoE. The WithU RNF Team is committed in both World Championships in 2022. A real show, accompanied by famous opera arias, sung by the splendid voice of soprano Francesca Dotto and tenor Leonardo Cortellazzi.
A particular as well as exciting and unique atmosphere, which involved the vast virtual audience that followed the streaming on the social media channels of the team. Performing the official welcome, Matteo Ballarin, President of the WithU brand of the Europe Energy Group, strongly wished to held this event in his city, which is the headquarters of the company, he founded and represented. One more reason to celebrate WithU's title sponsorship role in this prestigious team. At his side, on the stage of the Verona Philharmonic Theater, the founder and Team Principal of RNF MotoGP Razlan Razali, the Team Manager Wilco Zeelenberg and the Team Manager of WithU GRT RNF MotoE Filippo Conti, alongside the MotoGP riders Andrea Dovizioso and Darry Binder together with Niccolo Canepa, who in 2022 will be competing in the Enel FIM MotoE World Cup together with Bradley Smith.
The WithU GRT RNF MotoE team opens up the field to new shores with a two riders line-up composed of Niccolo Canepa and Bradley Smith. The Italian Canepa will venture in his third year of the electric class, following a break in 2021. In the debut and the second season of MotoE, the experienced Genovese ranked well inside the top 10. Alongside Canepa, the famous number 38 will be back in the World Championship. Smith, who's looking back on a long and fruitful MotoGP career, already scored four podiums in the opening year of the FIM Enel MotoE World Cup and was vice champion by the end of 2019.
Razlan Razali, Founder and Team Principal WithU Yamaha RNF MotoGP Racing Team
It's just incredibly fitting for this launch to be held in his home town and beautiful city of Verona in this magnificent Philharmonic Theatre. For me, this is a new experience and also for the team. We appreciate the setting a lot! These for me are the two main things that are important for this unique team presentation, where we also have the pleasure to announce our MotoE line-up with Bradley Smith and Niccolo Canepa and are able at the same time to unveil our FIM Enel MotoE World Cup colors."

Filippo Conti, Team Manager WithU GRT RNF MotoE Team
"We couldn't have a better scenario to release our MotoE bikes! The presentation was amazing as the bikes and we cannot wait to begin a new journey in a really competitive and growing championship. Our whole crew is fully addicted to it and ready to fight for ambitious results having as well two high-level riders with Bradley and Niccolo. We're convinced that the partnership between WithU, RNF and us will bring out a lot of good things throughout the season as we already shared good moments. We are just impatiently waiting now to see these beautiful bikes on track for the first tests and for the first race of the season!"

Bradley Smith
"I'm excited to be back in MotoE and excited to be back in the MotoGP paddock after an unexpected year off. It feels nice to be back with the same team - although with a little bit different structure - I raced for, to some great results in 2019. I would obviously go one step better this year after getting the silver medal. I've watched the championship closely the last couple of years. As always, the championship remains very competitive. I'm thrilled for the new format this season, the fact that the Qualifying is a little bit more normal and there is 14 races, which gives us a longer championship and more opportunities. There are plenty of different tracks that I'm excited to race; for example Mugello and also Finland. So, let's get started."