10th place for Smith at Australian GP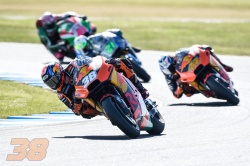 Posted on Oct 28, 2018 by Red Bull KTM Factory Racing
The fast and scenic circuit of Phillip Island was again a fantastic stage for the Grand Prix of Australia as MotoGP ploughed into the seventeenth round of nineteen. Changeable conditions across the weekend finally gave way to sunshine and light winds on race day for the 24th FIM World Championship meeting at the coastal venue.
Pol Espargaro set off from a season-best qualifying position of 11th and with hopes of matching his 2017 performance in Australia where the team achieved one of the highest classifications of their debut year. Bradley Smith was 16th and two rows further back.
Early in the 27 lap distance both riders jostled for space inside the top ten on their KTM RC16 – Smith making his customary brilliant start – as the pack circulated in close proximity. By mid-race distance Espargaro slipped back three positions and was eventually forced into the pitlane with a tyre problem. Smith reached as high as 8th spot but could not resist Aleix Espargaro and Franco Morbidelli in the last three laps and crossed the line 10th: his second-best classification of 2018.

Bradley Smith (Factory Rider MotoGP):
"We did a good job. We saw Phillip Island as an important weekend for KTM because we knew the bike would work quite well here. The team did a fantastically because the main aim of the weekend was to try and set up the bike as best as we could to look after the rear tyre. It meant we had to sacrifice qualification a little bit yesterday but it paid off today. I had a great first lap to come from sixteenth to eighth and then tried to hold the position for as long as possible. Unfortunately towards the end I just didn't have anything left for Morbidelli or Aleix. Sepang now and it is a difficult track but I think we have some good confidence and the bike has a good setting and it working well for me. I'm optimistic we can keep the same level and take some good points."

Mike Leitner (Team Manager MotoGP):
"Race conditions can be difficult here and so can tyre choice. It went quite well for Bradley and he ran where he we think we can be – between 8-10. We lost ninth position by four hundredths of a second: it was very close. A shame for Pol. He had a different tyre choice but then other riders also had that selection. In the middle of the race he had a very big drop which is not usual and he had to stop. So we need to analyse what happened. He should have also been able to fight for the top ten. We'll go to Malaysia now and try to make it happen."

The heat and humidity of Sepang and the Grand Prix of Malaysia will entertain MotoGP next weekend for the third meeting in a row.
Next Race: November 4, 2018 – Sepang International Circuit (MAL)