12th position after a positive day at the Circuito de Jerez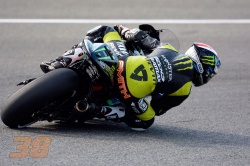 Posted on May 04, 2013 by Monster Yamaha Tech 3
Smith produced a brilliant display in QP1 to post a lap of 1.39.990 that put him into one of the top two places he needed to advance into QP2 where the top 12 grid positions are determined.
Satisfied to have claimed a place on one of the front four rows for the third time in his rookie season, Smith was less than 0.5s away from a top 10 place on the grid. And the 22-year-old is confident he can battle for a second successive points scoring finish in tomorrow's race, which is predicted to take place in searing heat and humidity in Southern Spain.
Bradley Smith 12th 1.40.356 - 8 laps:
"It was a great job to get into QP2 again today because I really had to fight to make that happen. My race pace is quite good and I am confident but it is going to be a very long and difficult race in the heat. I need to be confident when the tyres drop because it looks like the grip drops down a lot after only three laps and tyre management will be vital. I have made slow progress again all weekend and once again I am working on the same things I've been trying so far since I first rode the YZR-M1 machine. It is my riding style and how I am riding the bike where I need to work on but tomorrow is another learning day. I need to get a good start and see if I can follow some of those in the top 10 to get as much as experience as I can."