5th row start for Smith in Aragon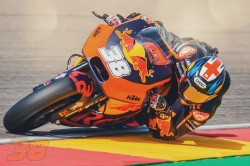 Posted on Sep 22, 2018 by Red Bull KTM Factory Racing
Hot conditions greeted the second day of work and set-up focus for the Red Bull KTM Factory Racing team at MotorLand Aragon for the fourteenth round of nineteen in 2018 MotoGP and the last European stop before the long overseas stint to Thailand, Japan, Australia and Malaysia.
After some positive speed and signs on Friday – with both Bradley Smith and Pol Espargaro getting on the pace with the KTM RC16 and pondering which tyre would be suitable for Sunday's 23 lap race – Saturday began on a sour note with Espargaro hitting the ground at Turn 15 and suffering a recurrence of the broken left collarbone that caused him to sit out the (eventually aborted) British Grand Prix.

Mike Leitner (Team Manager MotoGP):
"Pol has had an operation of a fracture of his left collarbone in the evening, that has been fixed with a titanium plate. He will remain the next 24 hours at the Hospital Universitario Quirón Dexeus (Barcelona), and he will begin with the functional recovery process in his left shoulder in the next 48 hours. The whole team will back him up in this tough period in his career and will do everything to come back togehter even stronger."

Smith was rapid in Free Practice 3 and was less than a tenth of a second from the top eleven of the chrono. The Brit was left to represent the team in the afternoon and had a promising lap attack ruined in Q1 by slower riders on the final Turn 16. Smith, who was just 1.4 seconds from Pole Sitter Jorge Lorenzo, will start the race tomorrow from the fifth row in 15th position after both Maverick Vinales and Franco Morbidelli were penaliesed for going slow on Smith's fastest lap with plus three and six psotions on the grid for the race tomorrow.

Bradley Smith (Factory Rider MotoGP):
"I felt good on soft tyres this morning and was close to making it straight through to Q2 and then during Q1 on the last lap I was coming up to Q2 pace again and riders sitting in the last corner held me up. Anyway I cannot do much about it. It would have been nice to go straight through. I struggled a little bit in FP4 and missed a bit of outright pace. We'll work a bit more in warm-up but tyres are still a question mark. It could be between the 40s-50s tomorrow for track temperature. We know that when the tyre starts spinning then there is a lot of overheating and a massive drop in performance. It's gonna be key to look after the tyre."

Sebastian Risse (Technical Director MotoGP):
"It took a while for us to bring this new set-up to the circuit but as we work the problems we face then our job become clearer and this is a positive. Depending on the conditions and the tyres available here at Aragon the results can go quite up and down. On the one hand it was quite obvious which ones worked best but then also clear we wouldn't have enough. Sometimes you have to compromise, and that worked well with the track temperatures in FP3 but we struggled a bit more in FP4. We know why and we can do better. We are disappointed with the situation in Qualifying and we see that riders cruising and looking around can create dangerous situations in other classes. It happened to an extent in MotoGP today. I guess this is part of racing and led to that result today. We know our pace and we could have been into Q2. Overall this is one of our better qualifications of the season and we're quite happy with the package, but we are also very unhappy and sad about the situation with Pol: it was great to have him back and getting stronger but now he is out again. We're struggling, and it means decisions for 2019 (work) are a little bit upside down; we'll have to make the best out of it in the next weeks."