A blink of an eye separates Smith from a front row start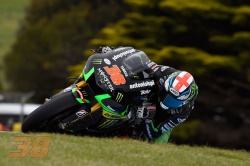 Posted on Oct 18, 2014 by Monster Yamaha Tech 3
Bradley Smith superbly steered his Monster Yamaha Tech3 YZR-M1 to 4th position on the grid for tomorrow's Tissot Australian Grand Prix after an expertly fought qualifying practice today. The young British rider opened the day by surging to 6th in the morning practice with a time of 1'29.661. This was an improvement of 0.652 from yesterday's afternoon session, which illustrated his consistent progress in lowering his lap times during the weekend.
In the afternoon, it started raining moments before the QP2 session, yet it did not fall heavily enough to deem the 15 minute shootout wet. Despite this tricky occurrence, Smith began the qualifying 2 session at full speed and attacked instantly with his ambition of landing a spot on the top two rows, on the cards. The British star produced a mature display to aggressively power to a time of 1'28.656. His time was only 0.006 from the front row and in addition a mere 0.014 of a second from the second position in what was a truly accomplished finish to the qualifying.
This leaves the 23 year old rider fully poised for success in tomorrow's 27 lap race which he will begin from the head of the second row.
Bradley Smith: – Position : 4th – Time: 1'28.656
"I am really pleased to be fourth today even though a front row start would have been a nice bonus. Initially, I had hoped to qualify on the outside of one of the rows so that I could attack the first corner, so to clinch fourth is great and I am convinced that I can have a strong race tomorrow. At the beginning I decided to do four laps on my first tyre just to check the conditions plus loosen up a bit and then after pitting, I set my quickest time on the first lap on the new tyre. The times were really close, but we achieved what we aimed for and it's great to know that I went faster today than last year on a track where conditions were completely different. Plus this year's pole position was half a second slower than 2013's. Nevertheless, I know that the race will be a long and challenging one and it will be very important to look after the tyre as it already starts to move after just a third of the race distance, but I will give it my all to bring home a firm result."