A change of luck for Bradley in Misano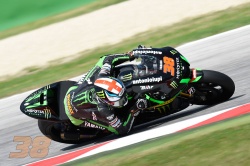 Posted on Sep 14, 2014 by Monster Yamaha Tech 3
Bradley Smith battled in the highly competitive field to finish in 7th position after a gruelling yet rewarding race at Misano. The young British rider started the day by beginning the race from 9th on the grid in ideal weather conditions at the San Marino circuit.
Smith completed the first lap in 8th place, as he aimed to ascend up the field and make ground on the factory bikes. Unfortunately, the British star made a slight mistake going into turn seven on lap two, which caused him to slip back two positions. Yet, the 23 year old illustrated his determination to aggressively fight back to 8th only three laps later and proceeded to set his fastest time of the race on lap 8 whilst he intended to make ground on the rider in front.
Smith's consistency and seamless performance saw him catching up a further position before the fall of the finish flag. It was a positive result after the previous two rounds which gives him a boost of confidence before he heads to Aragon in two weeks time.
Bradley Smith: – Position: 7th – Championship: 10th – Points: 74
"Even though 7th is not where I intend to be, it's definitely positive after the challenging past two Grand Prix's. Still, I am a little disappointed with the mistake I made on the 2nd lap as I went into turn 7 where I just out braked myself and lost two places. Later on, I recovered these positions, but the group of Pedrosa, the two Ducati's and Pol were out of my reach plus with the lap times so close here it was difficult to come back. I tried to catch Pol but then I realised I wasn't going to be able to get on the back of him, so instead of risking my point scoring position, I played it safe so that I could learn as much as possible and gather important data which we will use in Aragon. Considering how tough the weekend was here last year, the performance this time is a significant improvement but I want to be fighting for 5th. Therefore, there's some more work to be done, but the team did a great job after a tricky Friday and now we will push onwards to close in on the Ducati's."
Hervé Poncharal - Team Manager:
"It was as if somebody wrote the script for today, with the first Yamaha win of the season happening in Misano by Rossi is something that everyone has dreamed of and I want to congratulate Yamaha for the brilliant job they did. Regarding the performances of our two riders, I am happy with what we achieved today. At the moment, this is where we are at even if we were all hoping that both Pol and Bradley could have been fighting with the Ducati's of Dovizioso and Iannone today. However we have to admit that they have been slightly quicker than us this weekend. The boys did the best they could and I want to thank both of them for trying so hard after bringing the bikes home and collecting some really strong points for themselves and the team in the championship. This weekend we have once more collected precious experience and the guys always have to work really hard to get close to the level of Lorenzo and Rossi. Yet, we need to keep fighting and trying to assist our young riders in their learning process in the best possible way. The race event for us was not hugely exciting this weekend, but we leave knowing that we have done our best and that we did a solid job. Next we will head to Aragon to try to challenge for even higher positions."