Aprilia concludes the MotoGP Tests at Jerez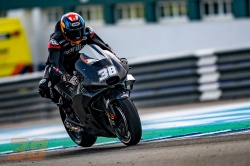 Posted on Nov 29, 2018 by Aprilia Racing Team Gresini
Two fundamental days of development of the 2019 prototypes
The 2018 MotoGP World Championship season came to a close today with the second day of tests at Jerez de la Frontera. These tests are closely correlated to next year's calendar, since they are the last chance to collect data and information until testing resumes in February.
In the Aprilia camp, the testing schedule continued with Andrea Iannone, Bradley Smith and Matteo Baiocco. In fact, after going out on the track for a few laps, Aleix Espargaró had to throw in the towel due to the after-effects of his bout with gastritis that forced him to skip the tests yesterday.
While Andrea continued his apprenticeship astride the RS-GP, where he experimented with the various available configurations, despite the troublesome consequences of his crash yesterday, Bradley focused on comparing the two different engine types. In the Aprilia Test Team garage, Matteo Baiocco moved forward with development work, turning 48 laps.

Bradley Smith:
"Today we once again had to change our plans slightly since Aleix was unfortunately still debilitated. Our work focused on the comparison between two different engine types, a decision in anticipation of the 2019 season to try to find, above all, rideability and better power distribution. Our ideas are rather clear. During the two days of testing in Valencia and these tests, Aleix, Andrea and I had rather similar sensations and this is certainly helpful for development of the new Aprilia MotoGP bike."