Aspar pair target victory from front row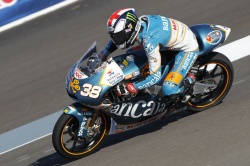 Posted on Sep 28, 2010 by Aspar Press
The top handful of riders continued to distance themselves from the rest of the field today as series leader Marc Márquez smashed the pole record by 1.2 seconds with a lap of 1'48.124. Bancaja Aspar pair Nico Terol and Bradley Smith were right behind him and even though the Spaniards were the only two to break the 1'49 barrier the British teenager is determined to take the race to them tomorrow.

High temperatures and low grip levels led to more than the odd scare today, as well as a few crashes, and it promises to be a dramatic race tomorrow. It looks unlikely that 1'48 lap times will be set in the race and as such it should be a six or seven way battle, with both Bancaja Aspar riders looking to repeat past podium finishes here at the Brickyard.

3rd Bradley Smith 1.49.026 (19 laps): "The most important thing today is that we got on the front row, which was crucial because the first section of this track is difficult and you need a good starting position. I am a little disappointed though because we're a second off Nico and Marc so we need to close that gap. They did some fast laps but I don't think they'll be able to match that pace in the race. The track is slippery and we'll have to take a lot of care not to crash tomorrow. My pace was good, I got confident and the tyres seem stable so I think we have a chance tomorrow. The race will depend a lot on the start but it could either be a three-way fight for the win or a bigger group of six to seven."