Bancaja Aspar Riders Battle to keep title hopes alive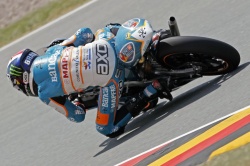 Posted on Aug 11, 2010 by Aspar Press
The 125cc riders will be back on track at Brno this weekend following a three-week break, as the season resumes with the Czech Republic Grand Prix. The second half of the campaign promises to increase in intensity as it progresses, with a host of back-to-back and intercontinental rounds to come. Four riders are in with a realistic chance of lifting the title, with Nico Terol, Bradley Smith and Pol Espargaró all looking to halt an impressive winning run by current leader Marc Márquez over the final nine races.

Bancaja Aspar rider Terol returns to the fray after missing the last round in Germany as he recovered from a back injury sustained at the previous round in Barcelona. The Spaniard had led the championship up to that point and despite not scoring points in the last two rounds he remains just 39 adrift of Marquez. Nico hopes he can recover top form and fitness at Brno, where he took victory last season. His team-mate Bradley Smith has spent the last three weeks in intense training, completing the London triathlon last weekend, as he looks to reproduce the late season form that saw him take six consecutive podiums in the final six races of last year.

Bradley Smith: "I'm excited about returning for the second half of the season. A three-week break from racing is always a good chance to rest and reflect on the first eight races of the year but it will be fun to be back on track at Brno and to continue working as we have done up to now. It has never been one of my favourite circuits but the set-up we found in the first half of the championship is working really well and I think we can be fighting for a top result. My main objective is to close the gap Terol, Márquez and Espargaró have over me - the second half of the season tends to be better for me because there are a lot of tracks I like. There is a tough run of races between August and November so it's time for us to get back to action and tackle it as best we can."