Bancaja Aspar take podium Double with Terol and Smith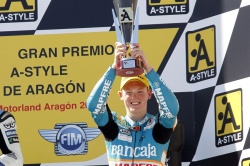 Posted on Sep 19, 2010 by Aspar Press
125cc racing resumed in the first race since the passing of Moto2 rider Shoya Tomizawa, with the race delayed by five minutes in order to allow for a homage to the late Japanese talent. The paddock and the Spanish king were present to pay their respects to Tomizawa with a minute's silence at the Motorland circuit.

The race itself had an early shake-up with a crash for series leader Marc Márquez. That left the race more open but the victory no less impressive. Nico Terol and Pol Espargaró immediately took to the front in search of a home win, although it was the latter who eventually crossed the line first following a fantastic last lap.

Bancaja Aspar took their first podium double of the season as Nico Terol regained the leadership of the World Championship. He was out in front with Espargaro for almost the entirety of the race, but had to settle for second and his fourth consecutive podium . Bradley Smith was able to return to the rostrum after a great start, despite losing ground on the opening laps and being squeezed out of the battle for victory. He upped his pace but was unable to catch the frontrunners, although third place was a welcome result for the Briton and his team.

3rd Bradley Smith: "It feels great to be back on the podium and have something to celebrate. It was a tough race made more difficult by my losing 1.5 seconds in the space of a couple of laps. That was when my chance of victory ended. I pushed hard to bridge the gap, but Nico and Pol were too fast. I think that I kept up a good pace for the entire race, although I was losing a lot of time in the long final lefthander. You always have the feeling of being able to do better after the race, but in general I'm happy with the result. I was lucky to finish with my tyres so well-worn, but overall we improved a lot this weekend and caught up with a lot of other riders. Let's hope that this is the start of a good home straight to the season."