Best MotoGP finish for Smith & Espargaro on the KTM RC16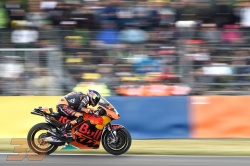 Posted on May 21, 2017 by Red Bull KTM Factory Racing
Following the team's best qualifying yesterday, Red Bull KTM Factory Racing took their best MotoGP finish today with 13th for Bradley Smith and 12th for Pol Espargaro in front of 104,020 fans watching the French MotoGP.
Bradley Smith added to the tally of seven points that the team take away from Le Mans – the most the team has taken in the new-for-2017 MotoGP project with the KTM RC16 bike.

Bradley Smith (Factory Rider MotoGP):
"First of all I have to apologise to the team as my start wasn't the best one and I ran off track three times so I definitely left a few seconds out on track, but the bike felt good considering the limited dry track time we had. Over the weekend as a whole we took the opportunities with both hands going straight through to QP2 which was obviously the highlight. In the race we settled a bit further back but we stayed focused and finished with points – which is the target. We will keep on moving forward and scoring these points every weekend and picking up on improvements, learning a lot and learning from my team mate as I battled with him over the last few laps so I can see what he has with his package and what I have with mine. Overall we must be proud of ourselves this weekend and we will keep on improving like always."

Mike Leitner (Team Manager MotoGP):
"From the result, we have to be happy after 8th and 10th on the grid as you already have the feeling that maybe something more would be possible in the race, but it's the reality we can now fight for points and between 10th and 15th. It's the best result we have achieved this year. It's great to see this. With Pol in 12th and Bradley in 13th, it means the whole weekend was very positive with the steps we have made, but of course we've never done a Le Mans race so of course it would've helped to have had four dry sessions to maybe lead to our race pace being a bit better but this is how it positively finished with points for both riders."

Next Race: June 4, 2017 – Mugello (ITA)