Biomechanical testing at Melbourne Sports & Allied Health Clinic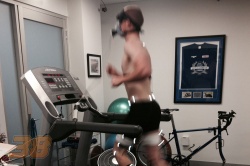 Posted on Oct 22, 2013 by George Penny
Just received these images from Catherine Polack Exercise Physiologist, at the Melbourne Sports and Allied Health Clinic in Melbourne Australia.
Bradley took part in a series of tests at the Melbourne Sports and Allied Health Clinic prior to the Tissot Australian Grand Prix. Dr Simon Sostaric is the Exercise Physiologist performing the VO2 max testing and Dr Oren Tirosh is the Biomechanist taking the 3D gait analysis.
Together, they collect sophisticated data on anaerobic threshold, heart rate responses, power output, metabolic rate, blood lactate and biomechanical analysis to help improve Bradley's training and performance.
The Melbourne Sports & Allied Health Clinic (MSAHC) was established by internationally acclaimed exercise physiologist Dr Simon Sostaric in 2009, primarily as a specialist exercise physiology facility.
For more infomation you can check out: www.msahc.com.au
You can visit the gallery here.