Both KTM MotoGP bikes in top 10 for French Grand Prix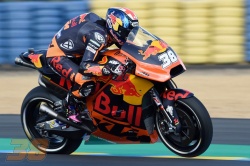 Posted on May 20, 2017 by Red Bull KTM Factory Racing
Under rain and sun at Le Mans, the Red Bull KTM Factory Racing team have had their best MotoGP qualifying today with both KTM RC16s inside the top 10 of the 23 man French Grand Prix grid.
In only their fifth MotoGP race weekend of 2017 the Red Bull KTM Factory Racing team have taken their best qualifying with an 8th and a 10th place for Pol Espargaro and Bradley Smith after guaranteeing their place in the all important 'Q2' session following brave rides during a damp but drying Free Practice session this morning. Following the introduction of the new 'Big Bang' engine for the Jerez race and further developments tests afterwards, the spirits are high in the KTM garage as both KTM RC16 bikes start the French Grand Prix in the top half of the grid.

Bradley Smith (Factory Rider MotoGP):
"To take the risks and have the confidence in the motorcycle this morning and then go straight through to Q2 was great for everybody in the garage. We never expected after five races that we would do such an achievement – the goal is always to improve but that was taking full advantage of the circumstances but also having the feeling and the confidence in the motorcycle to make it happen. This afternoon I felt that we did the best that we could. It's quite tricky in these cooler conditions to make the medium front tyre work – we already improved 1.2 seconds from our test here (before Jerez) so we are venturing into new areas and new grounds again, but we've got plenty of data. I'm happy we're on the fourth row for tomorrow as from there we have a good chance of a good start and then mixing it up with the fast guys because although we might not be able to stay there for the whole race, we'll learn a lot more being with them and seeing what their motorcycles do, and that will help our development so I'm excited for that opportunity to get a good start, try and be in the mix and see where we are at the end. Such a great weekend and such a great day so we'll give everyone a pat on the back for now with the focus on tomorrow."

Sebastian Risse (Technical Director MotoGP):
"Its really quite an overwhelming for us. I think it's been a really big step for the project to see how things work out and to prove that we made steps forward at Jerez and that this is not a one off. Still we see potential to improve further and this makes us even happier to now face the race and see what else we can learn when we start from further up the grid being with other people and see how the pace can develop there. Anyway, we know what we need to work on and we are obviously not finished with that, but we will understand even better after the race and then hopefully make the next steps based on that."

Races:
April 23, 2017 – Moto3 11:00 | Moto2 12:20 | MotoGP 14:00 CET

Results Qualifying MotoGP Le Mans 2017
1. Maverick Vinales (ESP), Yamaha, 1:31.994 min
2. Valentino Rossi (ITA), Yamaha, +0.106 sec
3. Johann Zarco (FRA), Yamaha, +0.235
4. Cal Crutchlow (GBR), Honda, +0.306
5. Marc Marquez (ESP), Honda, +0.499
8. Pol Espargaro (ESP), KTM, +1.405
10. Bradley Smith (GBR), KTM, +1.635