Bradley crashes out after an outstanding start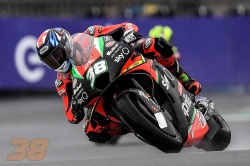 Posted on Oct 12, 2020 by Aprilia Racing Team Gresini
The final surprise of weekend at the French Le Mans circuit came just a few minutes before the race start, with a downpour that forced teams and riders to drastically change their plans. So, it was a wet race, with Bradley getting off the grid extremely well at the start.
First seventh and then ninth, Bradley confirmed his feeling in the wet before falling victim to a violent high side on the ninth lap.

Bradley Smith:
"Unfortunately, our difficulties got the best of us in the race too. We need to work on the electronics, because in conditions like today, we are too close to the limit. I'm very disappointed because when I crashed, I wasn't pushing. I had found my pace and was already thinking about how to manage the tyres which, with less water on the track, were beginning to overheat. In any case, I am pleased with what I was able to do. I took advantage of every possible opportunity this weekend to best express the potential of the RS-GP."