Bradley kicks off season in Valencia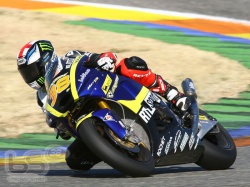 Posted on Feb 07, 2012 by Nick Harris
The long wait is over for Bradley Smith who starts his 2012 Moto2™ season with the first official practice session of the season at Valencia in Spain on Wednesday. It's a crucial three day session for Bradley and his Tech3 team, who secured three podium finishes last season, with the first grand prix of the season in Qatar just eight weeks away.
All the top Moto2 teams and riders will be at the test including Scott Redding and Gino Rea. Former 125cc World Champion Marc Marquez who was runner-up in the Moto2 class last year will miss the test after an operation to cure double vision problems following his crash in Malaysia last October. Also at the test will be the new Moto3™ teams who have replaced the 125cc class.
Bradley has been training in the Californian sunshine and returns well prepared for a busy testing schedule. After the three day test in Valencia he travels south to Jerez for another three day of testing which starts on February 16.
Bradley Smith
" I have not ridden a road bike since the Jerez test last November and so I will probably be a bit rusty and will need the first day to get it out of the system. It's not a race situation and I must not try too hard and remember I have to be a test rider for the next three days. I used to get worked up about testing but I'm pretty relaxed and know we have an enormous amount of work to do. I will probably start the first day with the bike I rode in the test at the end of last season and we will go from there. We have two months before that first grand prix in Qatar and we will work the whole time to have the bike ready for that first practice session at the Losail circuit. I've certainly felt the cold since coming home from California where my training went really well. The cycling and motocross was great but I also worked very hard in the gym with some real top guys. I've started a new training programme which hopefully will make me a better all round athlete and stronger in places like my shoulders. It's gone really well so far and I worked a lot with the AMA Superbike Champion Josh Hayes who was fantastic. He's 36 years old, a champion who is a winner and working with somebody with his experience and knowledge could not have been better preparation. The season starts on Wednesday and I can't wait."