Bradley Smith begins hand injury recovery in Italy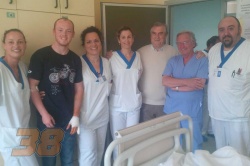 Posted on Jun 04, 2013 by George Penny
Monster Yamaha Tech 3 Team rider Bradley Smith has commenced an extensive treatment schedule in Italy to repair a nasty open wound on his left hand following a heavy fall in practice ahead of last weekend's Mugello MotoGP race.
Hours after riding through the pain barrier to a gutsy ninth position in Sunday's 23-lap race, Smith drove to San Marino where he underwent a 30-minute procedure at the Ospedale di San Marino yesterday.
Under the supervision of Doctor Oliviero Soragni and renowned MotoGP medic Doctor Claudio Costa, Smith had a wire inserted in his left little finger after a detailed examination revealed he had suffered damage to the extension tendon when his hand became trapped under his YZR-M1 in the FP2 accident.
Initial plans to carry out skin graft surgery on Smith's finger were delayed to give the 22-year-old the best opportunity to allow the injury to heal naturally.
The consultation with San Marino specialists also gave Smith the opportunity to further assess a fractured scaphoid bone in his left wrist, an injury he sustained in the same FP2 incident. Fortunately the damage to the scaphoid wasn't severe enough to necessitate surgery.
Smith will remainsin Italy until the end of this week to undergo daily treatment and physiotherapy with Doctor Costa and Clinica Mobile staff ahead of the sixth round of the 2013 MotoGP World Championship at the Catalunya track near Barcelona.
Bradley Smith
"The initial plan was to have a skin graft but racing in Mugello meant the finger wasn't really in the right shape to accept new skin. It was too soft so rather than a skin graft it was decided to replace the extension tendon I damaged with a wire. That will help to keep my finger straight so it doesn't keep on collapsing and will basically do the job of the tendon. The finger has been pulled as tight as possible and the hope now is that the skin naturally heals itself. Now all I can do is wait and see whether the skin can heal naturally and that can be a long process. If it was a bone that was damaged I'd have more of an idea when it will be fully recovered, but being skin it is hard for me to be given a time frame when it will be ready.If I was going to sit at home with the finger in a splint it would head quite quickly, but obviously I want to ride at Catalunya, so the thing is that I don't get an infection in the wound and the hole can start to heal naturally. Unfortunately I am going to have this problem for a while and maybe the summer break will give me the time I need to let it heal itself. After Catalunya I will get the finger checked out again to see how it is healing because it might be that I will need a skin graft at a later stage. But the priority right now is to try and let it recover naturally. Fortunately the scaphoid bone in my wrist was checked and that didn't require any surgery but there is no specific time on when that will be completely healed. I am now going to stay in Italy for a few days to be continually checked by Doctor Costa and his staff before heading to Barcelona. Once again I want to thank all the Clinica Mobile staff and those responsible for my treatment in Italy because they are doing a wonderful job and I really appreciate it."