Bradley Smith concludes three positive preseason testing days at Jerez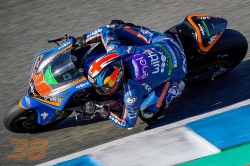 Posted on Mar 12, 2020 by One Energy Racing
The 2020 preseason for the MotoE World Cup began this week with three days of testing at the Jerez-Angel Nieto Circuit. Bradley Smith and WithU Motorsport made a good start, achieving the fourth fastest time overall and making steady progress.
Smith was one of the outstanding riders, managing to top the first session on Tuesday and finish within the Top 5 in six other sessions. During these three days in Spain, the WithU Motorsport rider was able to return to working on his preparations for the new season, alongside his team as they developed their setup and re-acclimatised after more than three months of inactivity.
After completing a total of 69 laps over the nine sessions, Smith was the fourth fastest rider, thanks to a best time of 1:47.873 -set in the final runout on Thursday.
WithU Motorsport rider will return to action at Jerez on April 8, 9 and 10th for the last test of preseason, before the competition starts on May 3rd at the Spanish GP.

Bradley Smith:
"Overall, I'm very happy after these three days in Jerez. We are back to the same level where we left off last season. The bike is exactly the same as the one from 2019, although we had to focus on understanding the completely new profile of the rear tyre, with a different shape, casing and compound. Due to this, we had to re-test aspects that we had already looked at during the past year.
We also tried some other very important elements of the setup that we didn't have time to test during the race weekend last year. For the upcoming test we will focus mainly on improving our pace over a single lap. I'm satisfied with our fourth position and the time that I set. The level is very high again this season, so we have to keep improving."