Bradley Smith dominates opening test for MotoE World Cup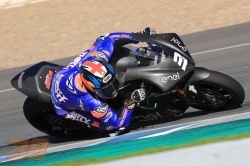 Posted on Nov 25, 2018 by One Energy Racing
The ONE Energy Racing team and Bradley Smith made a brilliant start to their new adventure in the MotoE World Cup. In three days of testing at the Jerez Circuit - Angel Nieto, the British rider was a constant presence at the top of the timesheets, eventually going fastest in the electric class' first ever test.
The rainy conditions meant that several sessions were held in the wet. Smith finished yesterday as the fastest rider with a 1:50.265 lap, a time that kept him quickest overall today. On Sunday he had three more sessions, held on a track that dried up during the day. He finished second with a 1:52.272 from 29 laps.
After this exciting debut in the world of electric bikes, ONE Energy Racing and Bradley Smith will return to action in 2019, with another test on March 12-14 in Jerez.

Johan Stigefelt - Team Director:
"It has been three very interesting days with the MotoE bike. It's a completely different world from the one we're used to, but Bradley's comments are very positive and he's very surprised at how well the bike is handling; It is very nice to see him with a big smile on his face. The bike has a lot of room for us to continue working on it and make it even better. What we have done is try to make it easy for him to ride the bike and see how far it takes us. It's good for us to have topped these tests and I think we have a great MotoE season ahead with Bradley. It will be a tough and close class, where small details will make a difference, but we can't wait to start!"

Bradley Smith:
"I'm very happy with the work we've done today. We set a fast lap in the morning session, and I've felt better and better with the bike. In the afternoon we had mixed conditions on track, and it was good to have references for mapping and try out different setups to see what else we can work on for next March. In the last session there were a lot of puddles; we went out with slicks and were very competitive again. I'm very satisfied with this first test, as we have always been among the fastest riders and we have more and more knowledge about the bike. We know which direction to take and what to do to improve. I really enjoyed myself with my new team, and I'm looking forward to coming back to Jerez in March!"