Bradley Spreads the MotoGP™ Word in the Middle East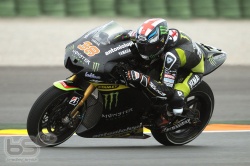 Posted on Jan 02, 2013 by Nick Harris
Bradley Smith puts the winter weather behind him and embarks on a tour of the Middle East on Friday to promote motor cycle racing and to advise local riders at some very special track days. Twenty two year old Smith, who makes his MotoGP™ debut for the Monster Tech 3 Yamaha team in April, will also compete in the second round of the Qatar International Championship on Saturday.
First stop for three times grand prix winner Smith will be the Bahrain International Formula One circuit on Saturday where he will ride his Yamaha R1 road bike that has been prepared by Pete Beale Racing, at a track day. On Sunday he will be on hand to assist and offer advice to up and coming racers in a special practice day at the home of the Bahrain Formula One Grand Prix.
Smith then moves onto another stunning Formula One venue, the Yas Marina circuit in Abu Dhabi and also Dubai for a couple of track and practice days with road riders and racers.
He completes his Middle East adventure on more familiar territory when he competes in the second round of the Qatar International Championship at the Losail International circuit that hosts the opening round of the 2013 MotoGP World Championship in April. Riding the R1 Yamaha he competes in practice and qualifying on Friday and then rides in the two 15 lap championship races organised by the QMMF on Saturday.
"I'm so looking forward to this trip – helping up and coming riders, riding new circuits which I've only seen on the television and to be honest enjoying a bit of sunshine," explained Bradley before flying out. "I've been pushing really hard to make this happen. Of course it's great preparation for me before MotoGP testing gets underway in Sepang but also I'm certain there is some real racing talent in that part of the world. You only have to see how MotoGP has exploded in Malaysia to understand what the success of local riders can achieve. I end the trip with a couple of races in Qatar and it will be interesting to see just how the riders have improved actually racing against them."
Smith's first MotoGP test of the season starts at Sepang in Malaysia on February 5.The first grand prix of the 2013 MotoGP World Championship is under the floodlights at the Losail International circuit in Qatar on April 7.